Abu Dhabi Ports Company (ADPC) has signed a Memorandum of Understanding (MoU) with Etihad Rail to build an integrated bulk and container railway terminal at Khalifa Port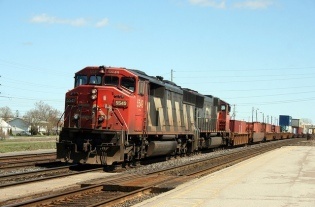 The 1,200km railway network links Khalifa Port to key GCC cities like Bahrain, Kuwait, Oman, Qatar and Saudi Arabia. (Image source: Bobolink/Flickr)
The MoU was signed by Nasser Al Mansoori, CEO of Etihad Rail, and Mohamed Juma Al Shamisi, CEO of ADPC, at the port in Abu Dhabi.
Al Shamisi said, ?As the activity at the emirate ports and industrial zone increases, a sophisticated transportation network throughout Abu Dhabi, the UAE and the Gulf is of utmost importance.?
The 1,200km Etihad Rail network would link Khalifa Industrial Zone Abu Dhabi (KIZAD) to the Khalifa Port, ADPC said.
The network will also form a vital part of a wider GCC railway network, connecting the UAE with Bahrain, Kuwait, Oman, Qatar and Saudi Arabia, added the company.
The rail network is currently being developed in three stages ? Stage-1 will extend 264km from Shah and Habshan to Ruwais in Abu Dhabi. Spanning 628km, Stage-2 will extend the network to Dubai, Saudi Arabia and Oman. Stage-3 is reportedly a 279km-long route, which would link Fujairah and Ras Al Khaimah.