Alstom and Qatar Rail have unveiled the design of the Citadis tram of Lusail, which will circulate on the four-line tramway network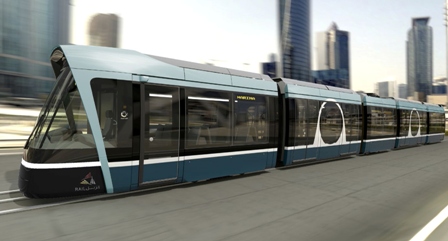 The Citadis tram is 33 metres long in single unit and can accommodate 207 passengers. (Image Source: Alstom)
The design is inspired by the Dhows, traditional boats of the area and the front of the tram is shaped like the bow of a vessel. According to the designers of the new tram, the exterior has been painted blue to reflect the colour of the sea aiming to provide passengers aboard an escape from Qatar's desert climate. The designers have taken inspiration from the local architecture for the interior design and have incorporated touches of yellow that recall the Lusail flower.
Alstom was awarded an integrated tramway system contract for the engineering, procurement, construction, testing and commissioning of four tram lines, totalling 38 km (of which 10 km are underground) with 30 stations as part of a consortium by Qatar Rail in June 2014.
Qatar Rail?s managing director Abdulla Al Subaie said at the unveiling, ?Across our projects, our build and design stages have been guided by the powerful coming together of tradition with modernity. Deeply entrenched in Qatari culture and heritage, the Lusail tram designs celebrate the convergence of our country?s history with groundbreaking technologies and cutting-edge solutions. We are creating a seamless consumer journey and experience built around the local community?s needs and values.?
The Citadis tram for Lusail is 33 metres long and can accommodate 207 passengers. Qatar Rail noted that it can be coupled to double its capacity. The tram features the latest technologies such as the permanent magnet motors, which reduces energy consumption. The first five of the Citadis trams will be manufactured in La Rochelle, France and the remaining ones in Barcelona.