Etihad Rail, developer and operator of the UAE?s national railway, has awarded a contract to Progress Rail Locomotive Inc, a Caterpillar company, for the supply of locomotives for the UAE?s nationwide rail network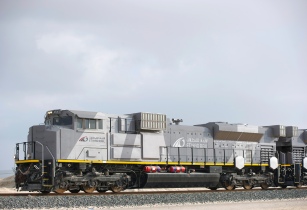 The deal is set to accelerate the transportation system and logistics services in the country. (Image source: Etihad Rail)
With this, Etihad Rail will be expanding the company?s fleet to 45 locomotives from the current fleet consisting of seven locomotives.
Sheikh Theyab bin Mohamed bin Zayed Al Nahyan, chairman of Abu Dhabi Crown Prince's Court and chairman of Etihad Rail, said, ?The cutting-edge fleet of locomotives will raise the bar in the transportation system and logistics services in the country and increase the network?s annual capacity to more than 60mn tonnes, compared to the current annual capacity of approximately 7.2mn tonnes.?
Under the terms of the contract, Progress Rail will design, manufacture, test and ship 38 EMD locomotives to withstand the high temperatures and humidity of the Gulf region. Additionally, the locomotives fleet will be equipped with air filtration system that filters sand from the air intake and pulse cleaning systems, ensuring effective and efficient operations while passing through desert areas.
Reducing carbon emissions by 70-80 per cent
The locomotives will be supported by advanced emission reduction technology, reducing carbon emission by 70-80 per cent. These are designed to haul a 100-wagon train, which can replace 5,600 on-road truck trips per day.
The agreement increases the fleet of Etihad Rail to 45 heavy 4,500 HP locomotives, which are among the most powerful locomotives in the region.
The signing of the contract follows the awarding of all civil works contracts for stage two of the national railway network, the launch of construction works of Package A of stage two and the award of a contract to build a series of freight facilities for the rail network. These underline the company's effort to complete one of the biggest and most important infrastructural projects in the country.