Bentley System?s connected data environment has helped Sweco Nederland B.V. in reducing construction errors by 25 per cent on Bergen Light Rail Project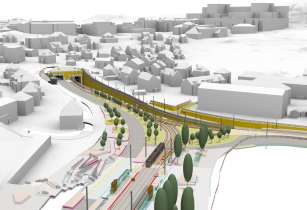 Bergen Light Rail Norway ? Tunnel Portals and Interchange Perspective. (Image source: Bentley Systems)
In March 2000, the Norwegian government decided it needed a light rail system to be the backbone of the city of Bergen?s public transport system. Aiming to deliver a transport solution that could serve both residents and visitors, the award-winning phase one of Bybanen, a 20-km line from the city centre to the Bergen airport at Flesland, was opened in 2010.
Fast forward to 2019 and the city is planning a new nine-kilometre extension of the system at a cost of NOK 6.2 billion, further cementing it as one of the key components of this growing city and gateway to the Fjords of Norway.
In collaboration with its client Bybanen Utbygging and sister company Sweco Norway, Sweco Nederland B.V. is engaged in the design of the new light rail line with eight new stops, including a stopping place and a depot both situated underground at Bergen.
Connecting and partly using the city?s existing tram line, Sweco?s work includes all adjacent infrastructure (roads, bicycle lanes, and pedestrian zones), supporting bridge structures, and surrounding public areas including parks, as well as relocating and adjusting existing infrastructure. The work will also require two new tunnels, totalling approximately five kilometres in length.
Using Bentley System?s OpenRail Designer and OpenBuildings Designer
To drive efficiency within the multidiscipline workflows required for this complex project, Sweco leveraged data in its connected data environment (CDE) based on ProjectWise, through the use of Bentley?s open applications including OpenRail Designer and OpenBuildings Designer. This strategy ensured accurate information was continuously available to team members from the 18 disciplines across five countries working together on the project.
A commitment to create designs in 3D enabled the project team to identify potential problems earlier in the process, reducing construction errors on-site by 25 per cent.
Sweco Nederland realised additional productivity gains using OpenBuildings Designer, leveraging track alignments from OpenRail Designer to place line-wide equipment, such as sleepers, drainage boxes, ducting, and trackside equipment. Using OpenBuildings Designer?s GenerativeComponents, the team developed scripts to automate design iterations, saving approximately 500 resource hours and enabling automated reprocessing of all related objects when the client required alignment changes.
?Bentley?s solution has enabled Sweco to engineer the extension of Bergen?s Light Rail system ?right first time,? and as a result make significant time and cost savings on this complex project,? said Christiaan Post, consultant ? 3D specialist/BIM with Sweco Nederland B.V. ?In short, Bentley software made our work easier and more effective, enabling the team to optimise the design and complete work within a tight schedule.?