The UAE?s Etihad Rail has awarded a US$436mn systems and integration contract to Hitachi Rail STS for stage two of the national railway network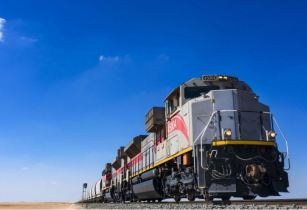 The 1,200-Km Etihad Rail project will link the UAE?s principal centres of industry, manufacturing, production, population, and import/export points. (Image source: Etihad Rail)
Hitachi Rail will be responsible for the design and build of railway systems related to its subsystems, in coordination with other Stage Two works and contracts, as well as managing uptime and operation tests, according to a statement of Etihad Rail.
Stage Two links the United Arab Emirates and Saudi Arabia from Fujairah to Al Ghuweifat through Mussafah, Khalifa Port and Jebel Ali Port.
"The awarding of the systems and integration contract is an important step in accomplishing this national strategic project, which is the future of a new transport sector in the country, and upgrades the transport and shipping sector in the UAE by linking ports to economic, industrial and residential areas,? reported The National quoting Sheikh Thayeb bin Mohamed, chairman of Etihad Rail and a member the Abu Dhabi Executive Council.
Etihad Rail said the network would be equipped with a communications system and control centre with its main operations in Faya and another in Mirfa.
The main operations centre will be able to pinpoint the location of a train on the network at any time, control its speed and even stop it where necessary, according to Etihad Rail. It will house a crisis management unit.
When complete, the 1,200Km Etihad Rail project will link the UAE?s principal centres of industry, manufacturing, production, population, and import/export points, forming an integral part of the GCC-wide railway network.