Etihad Rail Chairman and Vice Chairman inspect sites for first phase of railway network
Directors and senior executives of Etihad Rail, the master developer and operator of the UAE's first railway network, recently visited the Western Region of Abu Dhabi to inspect the sites for the first route of the railway network.
Etihad Rail Chairman of the Board of Directors H.E. Nasser Al Sowaidi and H.E Mattar Al Tayer, Vice Chairman, were joined by the CEO as well as other senior managers on the visit, the purpose of which was to collaborate closely with planners and local community members in order to ensure preparedness of both parties prior to the implementation of the project's first phase.
Construction of the 264-km route that links Shah and Habshan to Ruwais is scheduled to begin this summer after the award of contracts, tenders for which were issued in March of this year. This section of the railway is being developed in partnership with Abu Dhabi National Oil Company (ADNOC), which looks to use rail as a the main means of transporting granulated sulphur from Shah and Habshan to the port of Ruwais for export.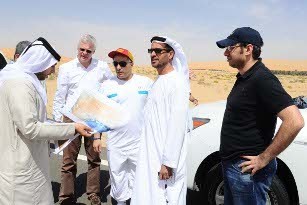 Commenting on the visit, Mr. Shadi Malak, Etihad Rail's Executive Director ? Commercial said: "We have completed several technical and engineering studies as well as the design and alignments for the first phase of the railway network. As we now move from the planning phase to the actual implementation of the first route, we look forward, with our partners at ADNOC, to the first steps in the realisation of this flagship project."
Overseeing the first stage of the project, Mr. Faris Al Mazrouei, Project Manager for the first phase, noted: "We are honoured by the concerted efforts and continued support of many parties, particularly the Office of the Ruler's Representative in the Western Region, the Abu Dhabi Urban Planning Council, the Western Region Municipality, the Environment Agency- Abu Dhabi, and the Department of Transport.
These stakeholders have played a significant role in providing expertise and insight in determining the overall physical path of the planned route in the Western Region as well as in overcoming specific challenges relating to sand dunes and quick sand."