GE has signed a letter of intent (LoI) worth US$575mn with the Egypt?s Ministry of Transportation (MoT) and Egyptian National Railways (ENR) to supply 100 GE ES30ACi Light Evolution Series Locomotives that can be used for both passengers or freight rail, as well as a 15-year agreement for parts and technical support for GE locomotives in ENR?s new and current fleet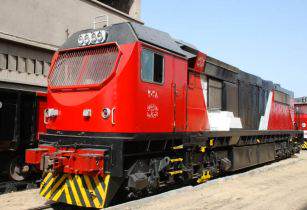 According to Egypt?s minister of transport, the agreement will leverage the role of ENR in transporting goods using rail, which is aligned to the Ministry?s vision to improve rail infrastructure, decrease loads on the road, and help achieve our target to transport 25mn tonnes of goods annually using rail by 2022. (Image source: ENR)
The agreement, which is the largest ever between the parties, also includes technical training aimed at improving local capabilities and technical skills for more than 275 ENR engineers and employees in Egypt.
The signing was attended by Egypt?s Prime Minister Sherif Ismail; Dr Sahar Nasr, minister of investment and international cooperation in Egypt; Dr Hesham Arafat, minister of transportation in Egypt; US Ambassador Robert Beecroft, US Ambassador in Egypt, Engineer Medhat Shousha, chairman of ENR; and John Rice, vice-chairman of GE and president and CEO of GE?s Global Growth Organization.
?A common thread amongst national strategies across the globe is the provision of sustainable and advanced infrastructure, with transportation a particularly crucial component,? said Rice. ?What is exciting about this partnership is its truly holistic nature. We are working with the MoT and ENR on the entire process ? from ensuring a competitive financing solution with partners to the manufacture and technical support for the locomotives, and the training and development of engineers. This is what it takes to be a true partner, engaging at all levels to offer comprehensive end-to-end solutions.?
Nasr added, ?The partnership between the Ministry of Transportation, Egyptian National Railways and GE is testament to the remarkable potential evident in the transportation sector and the unwavering commitment of the public and private sectors to realise it, and we are certain it will help drive future investments across multiple sectors.?
Arafat noted that the agreement would leverage the role of ENR in transporting goods using rail which is aligned to the Ministry?s vision to improve rail infrastructure, decrease loads on the road, and help achieve the country?s target to transport 25mn tonnes of goods annually using rail by 2022. The agreement also includes servicing and improving the efficiency of GE locomotives that were supplied in 2008, in addition to providing parts needed for the maintenance of GE fleet and providing training to Egyptian skilled labour.
GE ES30ACi Light Passenger Evolution Series Locomotives are equipped with a 12-cylinder, 3,200 horsepower GE Evolution Series engine. The locomotive delivers high power output to enable enhanced productivity and flexibility in heavy haul operations, as well as enhanced reliability. The locomotives can be used to transport passengers or freight.