Abu Dhabi Customs has signed a joint agreement with Abu Dhabi Ports to support the development of an effective framework that allows seamless entry and exit of empty containers at Khalifa Port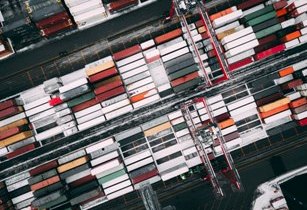 The agreement will support the development of an effective framework that allows seamless entry and exit of empty containers at Khalifa Port. (Image source: Erik Odiin/Unsplash)
The agreement was signed by Mubarak Matar Al Mansouri, executive director, customs operations sector, at Abu Dhabi Customs and Abdullah Humaid Al Hameli, executive vice-president, corporate support, at Abu Dhabi Ports.
Al Mansouri said, ?The signing of an agreement that governs the entry and exit of empty containers at Khalifa Port with Abu Dhabi Ports reflects the commitment of Abu Dhabi Customs towards its strategy of constructive cooperation with strategic partners.?
?This collaboration aims to support the security of the UAE society and promote economic growth whilst activating the shared interests between both entities. This partnership will also improve the performance of operations, simplify procedures, improve services and maximise the return on investment by applying best customs and innovative practices,? Mansouri added.
?By supporting and facilitating trade and passenger movement, this partnership will contribute to making the UAE an attractive environment for investment and trade. This approach is aligned with effective customs procedures which is economically feasible and assures cost and effort reduction and realises the added value to the economy and guarantees the trust and loyalty of clients.?
Commenting on the agreement, Abdulla Humaid Al Hameli, noted, ?We are delighted to be building closer ties with Abu Dhabi Customs to the benefit of the business community in Abu Dhabi. The integrated mechanism unveiled today will establish a clear regulatory framework to simplify trade and logistics procedures through Khalifa Port.?
Hameli added, ?We are constantly exploring strategic partnerships and pioneering ways to help make Abu Dhabi an increasingly attractive transport and trading hub, supporting the growth of the regional maritime ecosystem. The agreement will also play a vital role in furthering the UAE leadership?s vision of economic diversification and growth, whilst adhering to the directives of the government accelerators programme.?