DP World and the government of Rwanda have established a logistics hub located 20 km from the capital, Kigali, near the international airport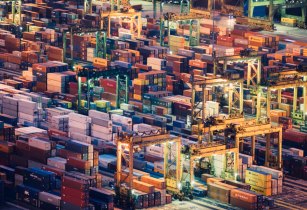 Imports from overseas can be routed through Kigali Logistics Platform for onward distribution to the surrounding countries of Uganda, Tanzania, Burundi and the DRC. (Image source: chuttersnap/Unsplash)
The facility is said to be East Africa?s first ever Inland Dry Port developed by DP World.
The company added that the DP World Kigali (DPWK) is a secure, bonded facility spread over 13 hectares and features an Inland Container Terminal (ICT) with modern warehousing capacity, a container yard, administrative and services buildings, parking areas and other facilities.
DPWK accesses two secure trade gateways for eastern Africa, the port of Mombasa in Kenya and Dar es Salaam in Tanzania.
Rwanda is working closely with Tanzania on a new standard gauge railway from Dar es Salaam to Kigali, which will add a direct rail corridor to the two existing road routes, further improving connectivity for containers and bulk goods.
At present, the transport costs for a six-metre-long container from Shanghai China to Mombasa are between US$500 to US$1000. The transport costs for the same container from Mombasa to Kigali vary between US$3000 and US$4000.
The introduction of DPWK will serve the inland logistics problems, delays and cost by providing a one-stop shop for all logistics requirements and cargo services.
The DPWK will offer container handling, stuffing and de-stuffing, warehousing, storage and other cargo handling services.
Imports from overseas can be routed through Kigali Logistics Platform for onward distribution to the surrounding countries of Uganda, Tanzania, Burundi and the DRC, a growing region of more than 40mn people.
Customs officers at the incoming port will use highly advanced e-tags, to seal incoming containers. These active RFID tags allow real-time tracking of cargoes on route to Kigali, for complete transparency and added security. A dedicated customs team inside DP World Kigali will handle the final customs clearances.
DP World Kigali is also said to be establishing a road transport solution that will allow clients to fully outsource their end-to-end logistics needs, including international shipments, clearances, repacking and final deliveries.