Grandweld Shipyard, the UAE-based shipyard, has signed an agreement to build two crew boats to Khalid Faraj Shipping (KFS), the Abu Dhabi-based company in delivering comprehensive marine services and logistical support to offshore oil and gas projects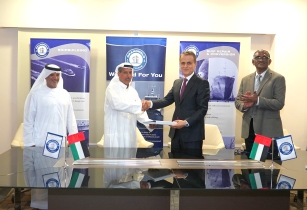 Grandweld and KFS signing the contract. (Image source: Grandweld)
The contract includes an option that allows Khaled Faraj Shipping to build two additional boats, with price protection over a period of three months.
Concluding its results for 2019 with great success, the contract holds significant value for Grandweld boosting the business with momentum and sustainable cash flow during the upcoming year. This allows the company to achieve additional performance records, utilising the recovery in the oil and gas sector in response to major investments proclaimed by the Abu Dhabi National Oil Company (ADNOC), Saudi Aramco, as well as numerous other leading oil and gas production companies within the region.
?Made in the UAE" marking the competitiveness
Jamal Abki, general manager of Grandweld Shipyard, explained that the boats are trusted by Saudi Aramco, ADNOC and KOC, as well as most of the leading oil and gas companies worldwide.
?Our boats also exceed the requirements of working in the GCC region, as they currently operate in rough waters such as North America, and the Gulf of Mexico. This enables KFS to expand the utilization of the boats in the future into new markets, such as the Mediterranean Sea,? Abki added.
The contract stipulates that the two boats are to be delivered before the end of 2020, as they will begin operations immediately in order to fulfil the grand expansion plans of KFS, as a result to the increased demand in the oil and gas sector in Abu Dhabi.
Strengthening the national economy
Khalfan Faraj Al Muhairbi, chairman of KFS, commented, ?KFS? priority is to improve the company?s in country value (ICV) ranking.
One of the most remarkable features of the new boat?s design is their ability to be adjusted to handle many other functions beyond crew transport. They are able to carry marine and logistic equipment, as their deck area is sufficient enough to be used for both maintenance of equipment and machinery.
Additionally, the boats can be modified to work in guarding and security operations. They have great stability in sailing or anchoring, even during the rough weather conditions, making them a smart multi-purpose investment, allowing KFS to get the desired returns.