Abu Dhabi Ports Company (ADPC) has welcomed the first-ever commercial container vessel to Khalifa Port as the port undergoes full scale tests before the scheduled opening of the port on September 1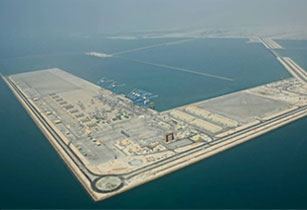 The Khalifa Port will be the only port in the MENA region that will be equipped with a semi-automated container yard. (Image source: Abu Dhabi Ports Company
Evergreen Line's Ever Dynamic vessel, which has a total capacity of 4,173 TEUs (twenty-foot equivalent container units), arrived from Shanghai and was met by representatives from ADPC and the port operator Abu Dhabi Terminals (ADT).
ADPC executive vice president ports? unit Mohamed Al Shamisi said, ?The arrival of the vessel at Khalifa Port bears witness to the fact that the port?s container terminal is fully prepared and on track to start operations on September 1.?
The months leading up to its official launch will see the port undergo further testing to ensure it operates as per world-class port standards.
ADT chief executive officer Martijn Van de Linde added, ?We will continue to transition and test with individual shipping lines with the aim of officially opening Khalifa Port?s new container terminal on September 1.?
Khalifa Port will be the first port in the MENA region to have a semi-automated container terminal.
Phase one of Khalifa Port Container Terminal will initially be able to handle 2.5 million TEUs and 12 million tonnes of general cargo per year. By 2030, the port's annual capacity will be expanded to 15 million TEU's and 35 million tonnes of general cargo, according to ADPC's projections.