MaK Middle East LLC, a Caterpillar company, set up in Dubai in 2017, is reinforcing MENA maritime industry through its local inventory, certified technicians and workshop facility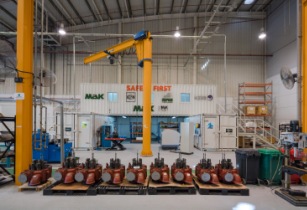 MaK Middle East's workshop is equipped with its turbocharger service capability. (Image source: MaK Middle East LLC)
The company?s workshop, launched at Dubai Maritime City (DMC) last year, is receiving appreciation from its growing customer base for its turbocharger services including maintenance, overhaul, repair, and upgrading and modification options.
MaK Middle East, a Caterpillar company established in Dubai in 2017, has invested US$4.08mn to build assets and impart skills.
The workshop is equipped with its turbocharger service capability, inclusive of Schenck rotor balancing machine, scissor lifting tables, fixtures, tools, inventory as well as the experienced technicians and engineers.
Alan Naisby, managing director of MaK Middle East and MaK Asia, said, ?The support of our USD $54bn parent corporation, Caterpillar, has been instrumental in providing us the means to take the financial risks to invest in this region.?
The company has invested in a comprehensive inventory of service exchange cartridges including includes Napier NA297 and NA357 units for MaK M32 engines and KBB HPR6000 units for MaK M 25 and M 20 engines. Spare parts plus new cartridges of Napier and KBB are available at the facility for MaK, Wartsila, Yanmar, Himsen and other applications.
Equipping its service team with Saudi Arabian work visas to enable a same-day response, MaK Middle East has put in place logistics support for exchange units with the kingdom and other regional countries within proximity.
Certified at the Napier factory in the UK and the KBB factory in Bannewitz, Germany, MaK Middle East?s turbocharger service engineers and technicians are manufacturer trained and experienced.