ASGC has been appointed to construct the Dubai Cruise Terminal at Dubai Harbour, the first ever dedicated cruise port in the region, which is set to be the most advanced of its kind in the region once completed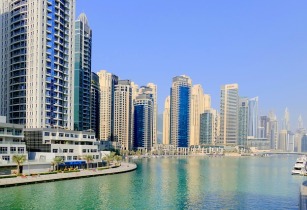 Dubai Cruise Terminal aims to become the main hub for international cruise ships visiting or deployed in the region. (Image source: Harald Landsrath/Pixabay)
Located in the heart of Dubai, between Bluewaters and Palm Jumeirah, Dubai Cruise Terminal aims to become the main hub for international cruise ships visiting or deployed in the region.
The Dubai Cruise Terminal is part of Dubai Harbour ? the industry-defining maritime neighbourhood by Meraas.
Under the terms of the agreement, ASGC will be responsible for the construction of two main cruise terminal buildings strategically positioned on a quay of approximately one kilometre, in addition to service buildings, a central unit building with all associated fit-out works, external works and all fixtures, fittings and equipment.
With a combined floor area of 300,000 sq ft, Dubai Cruise Terminal is expected to create a unique entry experience to all cruise ship passengers who arrive in the emirate and will have the capacity of accommodating complete passenger turnaround of two mega cruise ships concurrently, accounting to more than 15,000 guests.
Each cruise terminal is set to create an environment of complete luxury and comfort for passengers and crew alike, with simplified processes, seamless flow as well as leisure and retail offerings.
This world-class addition to the city?s tourism infrastructure comes in-line with the Dubai Tourism Strategy 2020 that focuses on making the emirate the first choice for international leisure and business travellers.
According to the Cruise Lines Industry Association (CLIA), more than 40mn people worldwide will be travelling on cruise ships annually by 2030, representing a 40 per cent increase from 2017. At a national level, the maritime tourism sector is expected to contribute more than US$410mn to Dubai's economy by 2030.