The UAE-based, Grandweld Shipyards, has announced outstanding results for 2018 keeping up pace with the thriving UAE maritime industry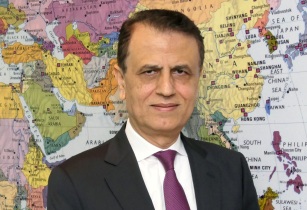 Jamal Abki, general manager of Grandweld Shipyards. (Image source: Grandweld Shipyards)
From environmentally friendly and sustainable services, to closing new deals; the company is embedding its footprint in the maritime industry to make its presence known.
Existing and new clients continue to seek Grandweld for its impeccable deliveries and designs, proving that the company is an invaluable port for all maritime related services.
Jamal Abki, general manager of Grandweld Shipyards, said, ?Grandweld has been the trusted provider of workboats, security and offshore support vessels to a wide range of key players in the maritime industry; from offshore to ports and terminal operators.?
Further, he added, ?With the help of our in-house engineering and design team, we are able to tailor quality services to all our clients. The company has been incorporating safety and sustainable measures into its business, which makes us a favorable choice for the regional maritime industry?s stake holders. Our recent reports are an accurate representation of this, as we have witnessed high demand for our vessels, especially the 42M crew boats.?
Reflecting the vision of Dubai?s 2021 for a more sustainable future, Grandweld Shipyards new facility at Dubai maritime city (DMC) adheres to the highest environmental and sustainability standards.
?Designed with premium green building technologies and standards, our new facility at DMC has been awarded LEED Gold certificates by the US Green Building Council (USGBC).? Abki added.
Grandweld?s latest achievement was highlighted with the signing of two new contracts; One with Wesal Shipping, and the second with Mars Marine Services. Both companies are long term clients of the company. The contracts entail the delivery of two more GW42M aluminum crew boats. The highly advanced design of the GW42M Crew Boats has proven to be a huge success, and therefore has stimulated the demand for this class of vessels from new and repeat clients.
Abki also commented, ?We have sold more than 60 crew boats of GW42M design; it is one of our bestselling boats.?