The 70,327-tonne Queen Elizabeth 2 (QE2) cruise liner, which has the capacity to accommodate 1,791 passengers, is set to be converted into a 300-room luxury floating hotel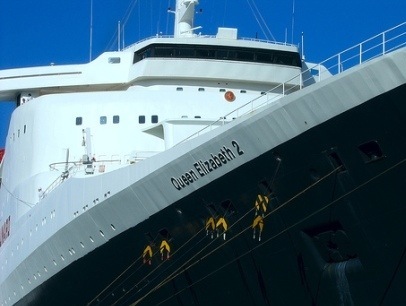 Queen Elizabeth 2 liner will soon be converted into a luxury hotel. (Image source: Dawn Endico)
The vessel was bought by Istithmar World, the investment arm of government-owned conglomerate Dubai World, from shipping company Cunard Line for US$100 million in June 2007.
The initial plan was to refurbish the QE2 and showcase it at a maritime-themed development on Palm Jumeirah, but the plan was shelved in the wake of the financial crisis. The liner, with top quality lifestyle facilities, will now be docked permanently at Dubai's Port Rashid as part of a plan to transform the port into a tourist attraction and entertainment village in 18 months.
The 293-metre long vessel, which in its heyday could accommodate more than 2,900 people, will add to the attractions the port offers as the leading cruise destination in the Middle East.
Istithmar is currently in talks with three hoteliers, including Jumeirah Group, to manage the property.
Maritime company DP World has been expanding Port Rashid's capacity to cater for the growing demands for cruise tourism.