Ford Trucks, in partnership with its official importer-dealer in the UAE ? Al Tayer Motors, launched the new 6x4 Tractor Head series (3543T) in Dubai yesterday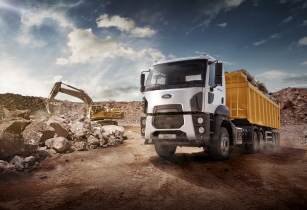 Powered by a 12.7L engine, the 6x4 Tractor Head is a popular and preferred axle configuration mainly because of its capacity to move heavy loads and having better grip on off-road conditions such as construction and quarry sites; for delivering power to more tyres. (Image source: Ford Trucks)
The new Ford Trucks 6x4 Tractor Head Series (3543T) offers advanced specifications such as 10mm 500 MPa strong steel chassis, twin clutch, 16-speed ZF manual transmission, and day & sleeper cab options.
?A truly competitive, viable and economical alternative, the Ford Trucks 6x4 Tractor Head series are powerful and capable vehicles tailored to meet the specific needs of the UAE market. The 3543T is now equipped with 24-inch tyres in response to the market requirement and is currently being offered with a comprehensive warranty that can be extended up to five years,? said Ashok Khanna, chief executive officer, Al Tayer Motors.
The 24-inch tyres provide superior ground clearance and high traction in extreme and challenging conditions, while the high front axle capacity increases its durability and the high towing capacity allows transportation of heavy loads.
The managing director - Middle East of Ford Trucks, Mustafa Caner Sinanoglu, added that Ford Trucks is continually focused on building long-term relationship with its customers by understanding the true need of each customer and the regional requirements. ?As a reflection of that Ford Trucks? global aspect, our new series has been designed and developed with consideration of our GCC clients? needs and market requirements. Furthermore, Ford Trucks aims to continue being a true business partner even after the customers? purchasing. Beside of providing a wide range of products, we also offer entire service and support benefits at after sales period. According to customers? business needs we offer both preventive service contract and comprehensive service contracts, which customers can always tailor to their operating requirements with an additional fee.?
Powered by a 12.7L engine, the 6x4 Tractor Head is a popular and preferred axle configuration mainly because of its capacity to move heavy loads and having better grip on off-road conditions such as construction and quarry sites; for delivering power to more tyres - thereby producing better control and overall vehicle operation; and being ideal for long distance haulage.
Offering comfort and exceptional uphill traction, the 2018 6x4 Tractor Head series delivers a 430 PS at 1800 rpm and 2150 Nm of torque between 1,000-1,300 rpm. The optional 600kW Intarder option offered for even tougher conditions brings the total braking capacity to 1,000kW, ensuring that the heaviest loads can be carried safely on even the steepest slopes.
Ford Trucks? vehicles offer quality and durability with low cost of ownership. Additionally, models such as 1843T tractor, 1833 (4x2), 3543P/M/D (6x4) and 4143M/D (8x4) can be customised with transmission and cabin modules for on-road and off-road conditions.
Designed for the most demanding environments, with best-in-class sequence and efficiency, an important feature in the new Ford Series is the automated transmission option. With Off-road, Rocking and Economy modes, the automated transmission option assists drivers in keeping their vehicle sure-footed on any terrain.
The new Ford Trucks series continues to save after purchase, offering a competitive advantage with 25 per cent reduced maintenance costs. The service periods extended up to 40,000km/ 800 hours offer will allow the customers to have the most competitive maintenance advantage in the logistics and construction sectors.
In addition to the above, the following considerations make the Ford 3543T very competitive: less down time, low fuel consumption, extended warranty, on-site maintenance and repair services ? (Mobile Workshop) sites increase vehicle uptime and Ford Driver Academy focusing on the principles of safe driving under tough working conditions such as hazardous material transportation and construction sites.
Hot Climate Package
The Hot Climate Package provides comfort in hot and dusty environments with improved A/C and radiator performance, and improved cabin isolation and filtration. The package was developed over a two-year period of vehicle durability tests in simulated laboratory conditions and also tailored to specific customer expectations through a series of road tests in the region. The Hot Climate Package is offered across the entire product line-up for the UAE.
Development process of the new Ford Trucks Series
? US$184mn invested in the development of Ecotorq engines and new Ford Trucks
? 750 engineers worked for four years
? The trucks covered more than two million km of test drive in eight different regions
? The new Ford Trucks Series was tested in eight countries across three continents, under the world?s toughest conditions, and prepared for the users.