The German Design Council has awarded Renault Trucks a ?German Design Award? in the Transport category for its special T High Edition series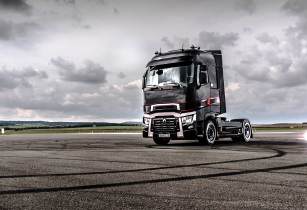 The Renault Trucks T is a range of heavy-duty trucks manufactured by Renault Trucks. (Image source: Renault Trucks)
This prize rewards the aesthetics of this special series, which showcases the expressive design of the Renault Trucks T, flagship of the manufacturer's long-distance range.
The Renault Trucks T is an iconic truck with a design that stands out for three key elements ? a trapezoidal cabin, a windscreen tilted by 12? and a pi-shaped front. Its atypical looks are showcased in this special T High Edition by black paintwork, aluminium hubs, carbon-look surfaces and fine red lines that echo the red of the door handles.
Herv? Bertrand, design director at Renault Trucks, said, ?We are very proud to receive this prize. The Renault Trucks T is a truck with a modern design that offers maximum comfort. Initially, there were a few misgivings about its innovative design, but it has now been recognised thanks to this prize.?
The Renault Truck T High Edition, which was presented in Germany for the first time at the IAA fair in 2016, had already clinched second place for the ?Young Professionals Truck Award 2017?, awarded by young truck drivers. The German Design Award recognises innovative products and projects in the field of Germany and international design, together with their manufacturers and designers. The winners are selected by a jury of 43 renowned international experts. It is awarded by the German Design Council, a foundation created in 1953 at the initiative of the Federal Parliament.
Building the legacy of the French truck industry know-how, Renault Trucks has been supplying transport professionals with robust tools and robust relationships since 1894. With an aim to reduce operational costs for its customers, Renault Trucks provide a range of commercial vehicles for distribution, construction, heavy construction, long haul as well as after-market products and support. All Renault Trucks models are produced in France.
Renault Trucks has been present in the Middle East for over 40 years and is now available in 13 of the region?s countries with over 150 bases in the Middle East and Africa region. Globally, Renault Trucks is present in more than 100 countries with 1,600 sales and service points.