Mercedes-Benz is opening up a new chapter in the heavy-duty truck segment with this two all-new model series ? Actros and Arocs ? for the Middle East and Africa markets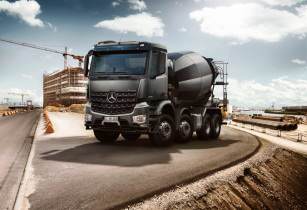 The new Mercedes-Benz Arocs is the first ever truck model series to be developed specifically for both off-road and construction use. (Image source: Mercedes-Benz)
Boasting decades of experience, the Actros has become the most frequently sold truck in the region. As a newcomer to the market, the all-new Arocs offers an extended level of robustness for construction and off-road applications.
High reliability and low costs coupled with impressive durability ? these are the characteristics that traditionally define Mercedes-Benz trucks. The Actros and Arocs impress with their highly sophisticated powertrain, comfortable cabs and a vast range of models tailored to individual markets.
Actros for long-distance and distribution haulage
When developing the new Actros, the focus was primarily on designing a truck for transportation applications. Thanks to a broad product offering, it meets the needs of long-distance haulage as well as heavy-duty short-radius transport and distribution haulage.
Arocs for construction and off-road applications
When exceptional robustness is required along with the maximum load-bearing capability for use on construction sites or away from surfaced roads, then the new Arocs is the right choice. The extremely resilient Arocs can work under the toughest off-road conditions, far from any highway.
Additionally, there are two new highly specialised heavy-haulage vehicles in the guise of the Actros SLT and the Arocs SLT, which complement the truck range.
Both the Actros and the Arocs are all-new and highly sophisticated developments ? from top to toe, from the cab to the drive system, and from frame to chassis.
Distinctive new cabs with functional equipment and a comfortable interior
For the two model series, up to 22 different cabs can be derived from three lengths, two widths, six heights and three engine tunnel heights. They cover the complete range from short to long-distance haulage, including off-road use.
A robust structure and the full galvanisation of the sheet-metal panels ensure that the cabs are exceptionally strong and durable. While material quality and comfort are both high, the operation is easy and comfortable. There is an impressive level of spaciousness, including plenty of stowage space for the driver's belongings.
The Actros and Arocs have different looks: the Actros has been streamlined in the wind tunnel for on-road use whereas the Arocs impresses with its robust and powerful appearance.
Highly sophisticated and reliable drivetrain from a single source
One key advantage which both the Actros and Arocs share is a drivetrain from a single source. They also host new resilient and efficient 6-cylinder in-line engines available in Euro III, IV and V emission norms. The engines, transmissions ? and axles all bear the Mercedes star and are perfectly matched with each other. To meet diverse emission regulations and fuel quality levels, the new Actros and Arocs come with a wide range of engine options.
Euro III engines:
Concealed beneath the cabs are heavy-duty 6-cylinder in-line engines with a displacement of 12.8 or 15.6 l. Their closely graduated outputs range from 265 kW (360hp) to 425kW (578hp). All of the engines are durable, perform highly efficiently and accelerate impressively from low revs. On top of this come technical highlights such as full electronic control and, with the OM 473, the unique X-Pulse injection system with pressure boosting and the asymmetric turbocharger. The engines have consistently proven themselves in real-world operation: in standard, modified or regionally customised guise, having already clocked up billions of kilometres in North America, Europe and Asia.
Euro IV/V engines:
The new Actros and Arocs are also available with three different engines complying with Euro IV and Euro V emission norms. All engines are designed as in-line 6-cylinder engines with exhaust-gas turbocharging and charge air cooling for high torque at little more than idle speed. Maximum tractive power levels of from 1000 to 3000 Nm are achieved by three displacements of 10.7, 12.8 and 15.6 litres, with a power range from 240kW/326hp up to 460kW/625hp.
Mercedes PowerShift 3:
Actros and Arocs models are fitted with Mercedes PowerShift 3 fully automated transmissions as standard for fast, correct and precise gear changes. A range of drive programs enables them to be adapted to individual requirements. Mercedes PowerShift 3 relieves the driver?s workload ? and therefore also helps to prevent errors. There are fully automated 12- and 16-speed transmissions as well as optional 16-speed manual transmissions.
New hypoid axles or exceptionally robust planetary hub reduction axles are fitted, depending on the usage profile of the Actros or Arocs. There is a choice of air or steel suspension. The individuality of the new truck generation is also highlighted by the available range of front axles in various weight variants.
A choice of two different all-wheel-drive systems means the Arocs can be adapted to suit different off-road conditions.
The optionally available Turbo Retarder Clutch ensures smooth, wear-free starting, even when carrying heavy loads. It also operates as a powerful primary retarder. The option for choosing disc or drum brakes, depending on the vehicle?s usage profile, leaves nothing to be desired. The Turbo Retarder Clutch is available exclusively for the Mercedes-Benz Actros and Arocs.
Assistance systems support the driver and save lives
Proximity Control Assist, Lane Keeping Assist, Side Guard Assist ? the list goes on and on. The Active Brake Assist 4 emergency braking system initiates maximum full-stop braking ahead of moving and stationary obstacles if necessary and can therefore save lives. It also warns the driver of any potential collision with pedestrians, triggering partial braking at the same time.
Specifically developed variants for MEA to withstand harshest operating conditions
These new flagship vehicles bearing the three-pointed star have been tested extensively all over the world, both on and off the road. Testing included a total of more than six million kilometres of endurance runs performed by the Mercedes-Benz Trucks Testing Center based in Abu Dhabi, United Arab Emirates.
The new Actros and Arocs are built at the Mercedes-Benz W?rth truck plant in Germany ? the world?s largest truck plant.
Service Contracts:
The service contracts offered are particularly noteworthy: fleets are guaranteed to be in top condition with regular maintenance. The benefits of this are improved fuel consumption, lower repair costs over the long term, maximum uptime and high-value retention.
The service contract offer includes the following options:
? BestMaintenance: covers the regular scheduled maintenance operations including the cost of parts, labour and lubricants.
? SelectPlus: includes the BestMaintenance offer, plus post-warranty cost protection
? Complete: includes the SelectPlus package, plus replacement of wearing parts
The service contract offer, combined with the Flexible Service System (FSS) ensures low servicing cost for the new Actros and Arocs and supports our customers with maximised uptime.
Extended Warranty packages:
The new Actros and Arocs are also available with Mercedes-Benz Extended Warranty packages, covering up to 5 years and 750,000km, ?bumper-to-bumper?, included in the SelectPlus and Complete Service Contracts. With its comprehensive coverage, the Extended Warranty packages allow the operator to focus on his day-to-day business and avoid unforeseen expenses.
Certified genuine accessories
Genuine accessories for the exterior such as detachable body parts in chrome or stainless steel make the truck a unique specimen. The products for the interior combine good functionality with high levels of living and sleeping comfort, ranging from practical stowage facilities, bed accessories and fine wood trim to floor mats, refrigerator boxes and customised protective covers to the TopFit Set which helps to keep the driver fit.
There are numerous electrical and electronic options available to keep those on board the Actros or Arocs entertained and very well connected. As well as a wide choice of aerials and adapters, the classic CB radio, and mobile phone solutions, the range includes a reversing camera to make manoeuvring easier and options aimed at ensuring reliable vehicle location.
Mercedes-Benz vehicles have to deliver top performance all around the world. In order to do this, the vehicles must remain in a technically reliable condition, best achieved with Mercedes-Benz Genuine Parts.
Mercedes-Benz Genuine Parts have been perfectly aligned to the individual trucks. They are produced in accordance with precisely defined manufacturer specifications, tested on an ongoing basis and continuously updated to the current state of the art with regard to their features. As a result, they contribute significantly to the vehicle's favourable total cost of ownership and ensure minimal downtime. The extensive range of parts and efficient logistics with fast availability are additional benefits.
Regional Logistics Center to deliver GenuineParts quickly and reliably
The Regional Logistics Center (RLC) of Mercedes-Benz located in Jebel Ali, Dubai, ensures a fast and reliable distribution of GenuineParts to the authorised general distributors of Mercedes-Benz across the region. The RLC was opened in 2001 and is run by a highly-committed team featuring a state-of-the-art warehouse, spanning over 24,000 square meters and storing more than 72,000 spare parts. Our customers benefit from short lead times, business hours of 6 days a week and a continuous improvement of parts availability. Since 2005, the RLC is certified to ISO 9001:2000 and ISO 14001:2004 (certification by TUV, Germany).
Wide network across the MENA region
Mercedes-Benz Trucks has a wide network of authorised general distributors and dealers across the region. Since the opening of the first dealer outlet in the Middle East in the 1950s, there has been a continuous expansion and development of the sales and service network. As of today, Mercedes-Benz covers the MENA region with 59 outlets, thereof 19 ?3S facilities?. Seven additional facilities are scheduled to open in the course of 2018 to further enhance the service level towards the customers and the brand presence across the region.