Volvo Penta is showcasing its new 11-litre diesel engine, which is designed to run at 315kW, up from the initial 285kW, at the TOC Europe in Amsterdam from 27-29 June 2017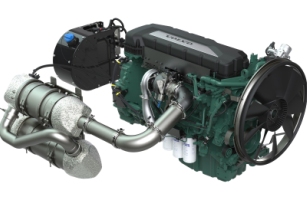 The 11-litre diesel engine aims to function without the need to inject fuel into the exhaust stream to raise the temperature. (Image source: Volvo Penta)
The upgraded D11 engine is a part of the company?s off-road diesel engine range and aimed at providing a wider range of material handling applications for industrial equipment, which include straddle carriers, reach stackers, cranes, terminal tractors and heavy forklift trucks.
The new D11 engine is a part of the company?s EU Stage V emission regulation solution strategy, which is expected to come into effect in 2019.
The company revealed that the EU Stage V solution will require a reduction in the number of particles emitted in addition to minimising the overall particle mass, as compared to the previous emissions stages.
According to the company, the engine has been designed with the matching exhaust after treatment system (EATS) and verified after extensive testing to comply with the Stage V emissions regulations.
Johan Carlsson, chief technology officer at Volvo Penta, said that the new D11 engine is aimed at helping the customers to reduce operational cost by enhancing productivity and uptime.
He added, ?Providing excellent fuel efficiency in our engines is very important for us as it contributes to the low total operating costs of OEMs? machinery, and offering good aftermarket support is another key factor in establishing good relationships with manufacturers and operators.?
The company added that the new 11-litre diesel engine has been equipped with a fixed geometry turbo, with an aim to reduce complexity and provide low noise during output.
In addition, the air inlet throttle, together with the exhaust gas recirculation (EGR), and the electrical exhaust pressure governor (EPG), aims to deliver an effective heat management system during production.
Carlsson further commented, ?With our regeneration strategy for Stage V, we have no seventh fuel injector as there is no need for high temperature sulphur regeneration in the SCR catalyst ? only soot regeneration is needed to clean the DPF.?