Volvo Trucks saw its sales rise across most of Middle East markets despite challenging economic conditions in the second half of 2015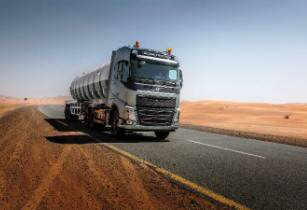 The Volvo FH range for the Middle East region. (Image source: Volvo Group)
The announcement comes at the end of a year that saw significant activity and investment by the company in the region, most notably the opening of a brand new state-of-the-art AVI production facility in King Abdullah Economic City in Saudi Arabia in co-operation with Zahid Tractor.?
According to the Sweden-based company, full year sales were up in most of Volvo Trucks? Middle East markets. The company enjoyed a particularly successful year in Bahrain, Kuwait, Lebanon and Qatar, more than doubling sales in all four markets and a double digit growth in Oman, which is Volvo Trucks? third largest market in the region.
Lars-Erik Forsbergh, president of Volvo Trucks for Middle East, said, ?The year 2015 has been a significant year for Volvo Trucks in the Middle East. The close cooperation that we have with our importers, combined with the excellent range of products with a strong focus on safety and the fully comprehensive services we offer have ensured that we have stayed a step ahead of our competition and continue to set new standards in the trucking industry.?
Sales in Jordan were up by 50 per cent, Saudi Arabia and the UAE were once again Volvo Trucks? two biggest markets in the Middle East, and sales in both countries remained stable in 2015 compared to the previous year, as they did in Egypt too.
This continued growth in the region builds on the major steps the brand has taken since it launched its completely new range of trucks ? FH, FM and FMX ? in early 2014 with new enhanced features such as Volvo Trucks 12-speed I-Shift gearbox, which is a fully automated gearbox designed to provide high comfort levels for drivers and maximum fuel efficiency.
One hundred per cent of Volvo Trucks sold in the UAE and Qatar are equipped with I-shift followed by KSA and Oman where 75 per cent and 50 per cent of trucks sold are respectively equipped with the I-shift gearbox.
Focussing on providing customers with the best after sales support in the market, such as the comprehensive driver development programme and strengthening the sales financing schemes was introduced in conjunction with the launch of the new range.
?The Volvo sales financing have become very popular among our Middle East customers over the past two years says Henrik Larsson,? sales finance advisor Volvo Trucks Middle East said, adding, ?This system allows us to bring our customer service to a new level and assist them in choosing products depending on their specific needs and financial capabilities. Our role is as an advisor to help them make the best possible choice.?
In the beginning of 2016, Volvo Trucks also opened a Volvo Truck CKD assembly line in Babel, Iraq, in cooperation with Volvo Trucks and investors ZamZam Spring, Group Volvo Trucks? official distributor in Iraq.