Abu Dhabi Ports has signed an agreement with Advanced Manufacturing Solutions (AMS) to build a steel foundry that will produce automotive parts at Khalifa Industrial Zone (Kizad) in Abu Dhabi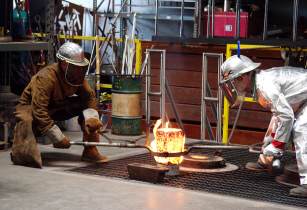 The construction of a foundry is part of a larger plan to boost the non-oil sector in the UAE. (Image source: FoundryGallery/Flickr)
According to authorities at Abu Dhabi Ports, the foundry will manufacture parts such as brake disks and callipers with a capacity of 300,000 tonnes per year. When complete, the foundry would be one of the largest single-source ones in the world responsible for producing car parts. Exports would be utilised by major car manufacturers such as Mercedes Benz, BMW and Volkswagen.
The construction will take place over three phases ? Phase 1 will cost US$139mn, with an installed capacity of 75,000 tonnes per annum and produce grey iron for brake discs and ductile iron for brake callipers. The second phase will boost capacity by 145,000 tonnes and the third phase will reach the target of 300,000 tonnes per annum.
Abu Dhabi Ports chief executive Mohamed Juma Al Shamisi stated that the automotive sector in the UAE has been experiencing double-digit growth over the past two years, and the presence of a locally-based manufacturing unit would support the growing industry.
The agreement with AMS is among a series of initiatives in Abu Dhabi to boost the contribution of the non-oil sector to the economy, create downstream industries and jobs. According to the Abu Dhabi Economic Vision 2030, the non-oil sector is expected to contribute 64 per cent of GDP by 2030.