Abu Dhabi Terminals (ADT) has signed a contract with Borouge to design, construct and operate a packaging facility at Khalifa Port in the UAE?s capital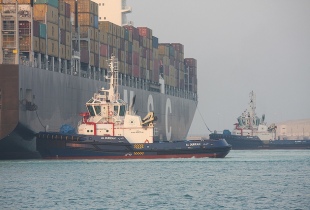 The new packaging facility to be built at Khalifa Port is expected to have a capacity of 385,000 metric tonnes. (Image source: Abu Dhabi Ports/Flickr)
The new packaging facility, set to be built at Khalifa Port, is expected to be completed in early 2015 with a total capacity of 385,000 metric tonnes, authorities at Borouge said.
Martijn Van De Linde, CEO of Abu Dhabi Terminals, said, ?We are delighted to extend our existing partnership with Borouge, as it signals an important development and a significant step toward achieving world class and complete supply chain solutions for one of our valued customers.?
Abu Dhabi Terminals and Borouge go a long way ? Khalifa Port received its first shipment of polyethylene for export from Borouge in October 2012, just a month after the start of operations at the port. Borouge is currently expanding its industrial complex and plans to increase its total production capacity to 4.5mn tonnes in 2014.
Khalifa Port has tripled Abu Dhabi?s shipping and cargo capacity, has 45 direct ports through 18 shipping lines, which makes it a key UAE gateway for Borouge?s products to their customers around the world, ADT said.
Abdulaziz Alhajri, CEO of Abu Dhabi Polymers Company (Borouge), said, ?We are delighted to sign this contract with Abu Dhabi Terminals and we are confident that the advanced packaging solution that ADT is going to provide us under this agreement will further strengthen our supply chain capabilities and support our growth. In addition to the existing packaging facilities in our Ruwais plant and in our regional hubs in China and Singapore, the new packaging facilities and services in Port Khalifa will give us more flexibility to better serve our customers and achieve our business targets all over the world.?