Engineering company Drake & Scull International (DSI) has signed an mechanical, electrical and plumbing (MEP) contract worth US$29mn for a building in Abu Dhabi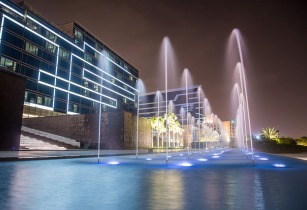 Drake & Scull International is providing its services to other projects in Abu Dhabi. (Image source: Andrew Stuart/Flickr)
The MEP contract is for Plaza View, which comprises five levels of basement, ground and mezzanine floors, as well as 20 storeys for residential and commercial activities. The contract was awarded by Al Fara?a General Contracting (AFGCO), said DSI.
DSI will provide services for the Plaza View project, which will be completed by end of 2016. The scope of work includes complete engineering detailing, procuring, installing, testing, commissioning and handover of MEP systems, including water supply works, drainage, fire fighting, central LPG, air conditioning and ventilation, and the complete electrical system on site, added the company.
Khaldoun Tabari, CEO of DSI, said, ?With increasing demand for residential and commercial properties in Abu Dhabi, the construction sector is expanding rapidly. DSI is well-prepared to carry out large scale projects through general contracting, engineering, rail, oil and gas and water and wastewater treatment divisions. Abu Dhabi is a vital market for DSI, forming nearly 11 per cent of our backlog. The Plaza View project will be a welcome addition to the portfolio of hospitality projects that we?ve delivered in the UAE in the last 48 years.?
Apart from Park View, DSI stated that it is involved in several projects in Abu Dhabi, including the Abu Dhabi Airport South Airfield Redevelopment, Louvre Museum, Central Market Redevelopment and the Fairmont Hotel and Serviced Apartments.