Austria-based ECOTHERM showcased its new EXOKON Shower Water Chiller SCHP 395 at The Big 5 Kuwait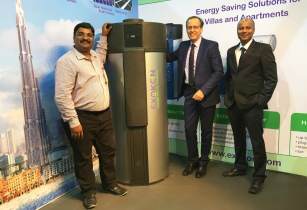 The chiller can cool down more than 500 litres of water from more than 40?C to 15?C in one day. (Image source: ECOTHERM Austria GmbH)
The new water chiller from the company is a plug-and-play device that consists of a storage tank, a heat pump and a controller, and has been specially designed for the Middle East. It can cool down more than 500 litres of water from more than 40?C to 15?C via the integrated heat pump in one day, using an electrical connection of less than 500W. The cold water is then stored in a 266 litres storage tank.
?In the Middle East, and especially in Kuwait, the cold water in a villa can easily reach more than 40?C during summer. Therefore it significantly improves the quality of life having a large reservoir of cold water,? explained Herbert Bremstaller, CEO of ECOTHERM Austria GmbH. ?Further advantages are the easy installation, the small footprint, the high quality of this product from Western Europe and the low price,? he added.
Apart from the water chiller, ECOTHERM also presented the hot water heat pump EXOKON HWHP 395 and the EXOKON Thermosyphon Solar Water Heater.
Using the same technology as the EXOKON Shower Water Chiller, the EXOKON Hot Water Heat Pump HWHP 395 can heat up more than 850 litres of water to 60?C within 24 hours with less than 500W electrical connection power.
Compared to electric water heaters, the EXOKON Hot Water Heat Pump can save up to 72 per cent energy consumption without any additional photovoltaic cells. When coupled with a small photovoltaic system in a villa, up to 92 per cent of the electrical energy needed for heating water can be saved.
ECOTHERM has been operating a local office in Kuwait since 2011.