Italy-based Elettrondata has unveiled ED.Cube automation system for controlling concrete specimens to simplify logistics management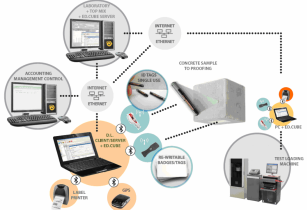 The ED.Cube automation system has smart traceability, which guarantees transparency in the production process. (Image source: Elettrondata)
The company said that the ED.Cube automation system, which makes use of RFID technology, has four main advantages.
Firstly, it can help a concrete manufacturer who wants to manage the specimens quickly and properly. ?With the elimination of printed material for the internal control on production, the manufacturer can finish his work efficiently and quickly,? said a company source.
Secondly, the automation system can aid a technical project manager or main contractor who needs to quickly identify the authenticity of the specimens during the acceptance tests.
Thirdly, the automation system can be used in laboratory where it can test the specimens quickly. It can also be used for laboratory management.
Finally, it can be used for technological laboratory in order to feed the information data base of software applications for the generation and optimisation of mix designs.