Immensa Technology Labs, the UAE?s leading additive manufacturing (AM or 3D printing) company, in collaboration with Consolidated Contractors Company (CCC) has released the result of a world-first joint effort to recover a series of concrete casting techniques with the aid of large-format 3D printing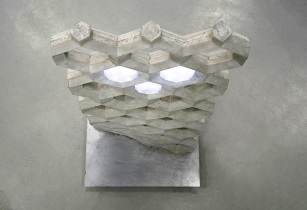 The ?Sensorial Adaptive Concrete Screen? is made from 3D printed formwork produced on Immensa Labs? BigRep ONE 3D printer. (Image source: Immensa)
The ?Sensorial Adaptive Concrete Screen? was developed with NOWlab, the innovation department of Berlin-based BigRep.
The ?Sensorial Adaptive Concrete Screen? showcases techniques that once belonged to skilled craftsman but have had life breathed back into them through expert digital fabrication. It sheds light on 3D printing as the tool that will allow architects to become the master builders of the 21st century and enable direct control of the 1:1 production of their designs.
Fahmi Al-Shawwa, CEO of Immensa, said, ?This breakthrough signals the immense potential that 3D-printed formwork offers companies to significantly shorten and simplify their studio to site process. It brings proven concrete casting methods back to today?s building sites, renewed for the modern era and offering significant added value. This fulfils Immensa?s mission to drive innovation in the 3D printing industry and highlight the unique benefits of this manufacturing method to show how it can benefit companies in the construction sector. We are proud to have achieved a world first in our industry, which strengthens Dubai?s growing reputation as a global hub for 3D printing in line with the ?Dubai 3D Printing Strategy?.?
The ?Sensorial Adaptive Concrete Screen? is made from 3D printed formwork produced on Immensa Labs? BigRep ONE 3D printer. The sensor-embedded screen is activated by the simple touch of a hand on the outer surface of the concrete wall and then turns on and off the functional 3D-printed hexagonal light fixtures in the grid.
Consolidated Contractors Company manager M.I.S. and business processes re-engineering, Aref Boualwan, said that digitisation of the construction industry, shown through advancements including the Sensorial Adaptive Concrete Screen in collaboration with Immensa, was crucial to meet needs globally.
?The age of construction and engineering is dramatically changing ? and we are ready at the forefront, working with leading organisations to seize opportunities that will truly transform our industry and society in coming years. The sensors in the screen are activated by the touch of a hand, allowing effectively any piece of concrete to become a switch. Architects now have direct control of the development of their designs ? this functionalisation of a concrete surface is the first of its kind. The potential impact of this technology is limitless ? and we are truly proud to present these world-first results with Immensa.?
Ready to be used without additional certification, 3D-printed formwork enables resolutions that cannot be achieved by 3D printing concrete. With large-scale 3D printing technology such as that of BigRep, companies now have the tools to produce the required parts at a grand scale.
Immensa?s state-of-the-art facility now houses 10 3D printing systems and offers over 30 materials for production. It is equipped to build and manufacture production quality parts, components and one-off prototypes for customers across a variety of industries using a wide range of advanced technologies including selective laser sintering (SLS), stereolithography (SLA), extrusion (FDM) and material jetting.