Abu Dhabi Ports and Khalifa Industrial Zone (KIZAD) have signed a Musataha agreement with Integral Plastic Industries to build a new manufacturing plant in KIZAD with an investment of US$2.7mn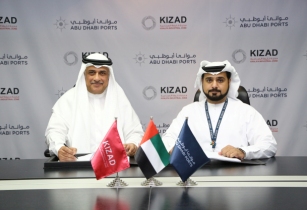 The agreement was signed by KIZAD CEO Mana Mohammed Saeed Al Mulla, and Khaled Al Saleh, CEO of Integral Plastic Industries, a subsidiary of Light Industries Holding Co. (Image source: Abu Dhabi Ports)
Commenting on the agreement Mana Mohammed Saeed Al Mulla, CEO of KIZAD, said, ?We are pleased with the rapid growth we are witnessing at KIZAD as we evolve over time to become the preferred partner for businesses looking to invest in this market. The development of Integral Plastic Industries Abu Dhabi?s manufacturing facility in KIZAD will strategically benefit the industry and its customers who will now have access to national plastic products that meet international standards and reduce their dependency on imports, therefore reducing costs of doing business and increasing the efficiency of supply chains.?
The manufacturing facility will be built on a plot of 21,649 sq m in KIZAD and aims to produce 15,000 tonnes per annum of plastic bottles preform (PET), plastic bottles caps (HDPE) and plastic packing strips rolls (PET). Production is expected to commence in Q1 2018.
Integral Plastic Industries CEO Khaled Al Saleh mentioned that the company?s decision to invest in KIZAD was a result of its attractive business model which features an integrated infrastructure in a prominent location and easy access to regional markets through Khalifa Port.
?Being one of the fastest growing industrial zones in the region, KIZAD has met all the requirements of our regional development strategy; it is the perfect base for our operations which enables us to extend our products to new markets within the UAE, the Gulf, and the neighbouring regional markets,? he added.