Bee?ah, the Middle East?s award-winning environmental management company, has announced that its Material Recovery Facility (MRF) has become one of the world?s largest producers of recovered plastics, following the installation of an advanced retrofit in April 2017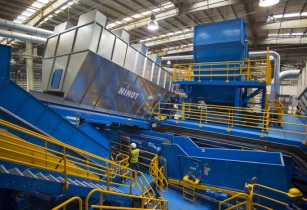 The Material Recovery Facility (MRF) of Bee?ah has become one of the world?s largest producers of recovered plastics. (Image source: Bee?ah)
The new retrofit has introduced state-of-the-art technology like automated bag breakers, polishing screens, debris roll screens, Nihot air separators and optical sorters. The automated bag breakers were the first upgrade and eliminate the need for manual bag opening. The facility?s new Debris Roll Screen uses four sets of adjustable, compound discs for highly-accurate material sizing, while the Nihot Air Separator uses a combination of air and rotating drums to separate materials based on density and shape.
The new polishing screens separate mixed fibre, plastics and fine materials by evaluating the 2D and 3D characteristics of the materials. Increasing the efficiency of processing plastic bags and PET bottles, the optical sorters will use sensors, in combination with air jets, to separate these materials off conveyor belts.
Housed within Bee?ah?s Waste Management Centre at Al Saj?ah, the MRF is the largest in the Middle East and the third largest in the world. It plays an instrumental role in the environmental management company?s master plan for a circular economy by processing more than 2.3mn tonnes of waste, collected from over a million households in Sharjah and from commercial establishments across the UAE.
The facility achieved this impressive feat by recovering 69mn pieces of plastic materials, equalling 1,700 tonnes, in the month of November 2017.
USA-based Bulk Handling Systems was responsible for designing, engineering, manufacturing and installing the retrofit, which features some of the world?s most advanced recycling technology. Every month, Bee?ah?s MRF now processes over 80 tonnes of household waste per hour; and recovers 27.3mn water bottles, 37.5mn plastic bags, four million hard beverage containers, 3.9mn used aluminium cans, 5.72mn containers of ferrous materials and 1,350 tonnes of fibres like paper and old corrugated cardboard.
Khaled Al Huraimel, group CEO of Bee?ah, said, ?Right from its inception, Bee?ah has driven the ambition of achieving a circular economy in the UAE, and of zero diversion of waste to landfills in Sharjah. This retrofit and the remarkable results that have emerged as a result of its installation, brings us one step closer to this far-reaching ambition. Plastic materials have always been a cause of concern, thanks to their non-biodegradable nature. Thanks to our MRF?s capabilities as a world leader in recovering plastics, we will be able to ensure that plastic consumption in the UAE does not lead to long-lasting repercussions for our economy.?