In April 2017, HH Sheikh Mohammed bin Rashid Al Maktoum, Vice-President and Prime Minister of the UAE and Ruler of Dubai, ordered the installation of back-up power generators at major projects in Dubai to ensure buildings will have necessary power during load shedding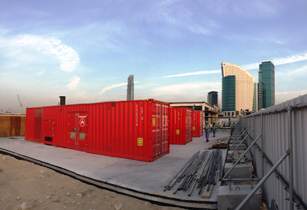 HIMOINSA gensets at Dubai Festival City. (Photo: HIMOINSA)
A committee, headed by Saeed Mohammed Al Tayer, MD & CEO of Dubai Electricity and Water Authority (DEWA), was formed to follow up on implementing the order in major buildings and landmarks such as tourist, commercial, and cultural buildings in the emirate.
The circular stated that the capacity of the back-up generators should be sufficient to cover lighting, elevators, escalators, automatic doors, surveillance cameras, alarm systems, and fire and safety equipment. The back-up generators must be properly maintained to ensure that they will work in an effective and timely manner, according to best safety practices.
In the light of this, HIMOINSA said that its standby generator sets can guarantee start-up with a 100 per cent load response within as little as seven seconds of any power cut. The company also offers end-to-end engineering consultancy on projects and the support of the local service through Al-Futtaim FAMCO, its distributor in the UAE.
In view of the foreseeable increase in demand for generator sets as a result of these regulations in Dubai, Keith Webb, general manager at HIMOINSA Middle East, highlighted the importance not just of supplying generator sets, but also of offering specialist technical consultancy. ?In buildings like these, public safety is the key. Having a qualified engineering department that offers end-to-end technical consultancy on projects is one of our greater strengths.?
Cristian Cavazzuti, managing director at Pramac, is also optimistic about Dubai government?s initiative. He said, ?The decision for mandatory power back-up in buildings and major sites will require quick availability of a range of generators that can vary from few hundreds kVA to MW and that is exactly the range we produce. The units will need to be silent, equipped with remote monitoring systems and configured with the typical stand-by options that we have been offering already.
?We have recently appointed an exclusive dealer United Al Saqer Heavy Equipment in Dubai to strengthen our local presence.?
Altaaqa Global?s chief commercial officer, Mahmoud El Zaafarany also stated, ?We support the initiative of the government of Dubai to encourage major facilities to install back-up or standby power plants. A power outage, even for a short time, may result in financial and opportunity losses to businesses and industries. A multi-megawatt back-up power plant can ensure that electricity is continuously supplied to any large-scale facility.?
He also mentioned that Altaaqa Global is ready to provide Dubai?s facilities with its large-scale rental power solutions comprising power plants that can run on either diesel, gas or dual-fuel. Zaafarany added that, as part of its service, Altaaqa Global offers the expertise of its engineers and technicians who will design, install, commission, maintain, service and demobilise the power plants.