Italy-based Visa SpA, one of the world?s leading gensets suppliers, has been recently involved in a major building contract in Kuwait for the supplying of a first batch consisting of four diesel generators model P 1260 in container version, with an integrated fuel tank of 2,500-litre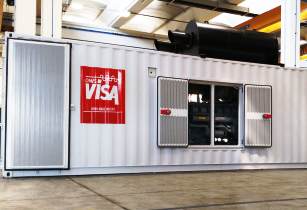 Powered by Perkins 4000 series engine, the unit is said to deliver ?superior durability with optimal access for ease of installation and maintenance servicing?. (Image source: Visa SpA)
This tank module grants to increase working autonomy and safety being suitable to operate for long periods of time by maintaining at the same time the genset?s compact size and reliability, two main aspects that have always distinguished the Onis Visa products.
The four machines that have been officially certified and approved for the installation by the Kuwaiti public authority for oil and petrochemical sector, will power one of the most important cement plants in Kuwait for the production of materials for the building industry. More particularly, the generators are destined to be used in specific machinery and industrial equipment, as well as complex instrumentation.
The first two units were delivered at the end of May, representing the first batch of the major order.
Powered by the Perkins 4000 series engine, the unit is said to deliver ?superior durability with optimal access for ease of installation and maintenance servicing?, and coupled to Stamford brushless and self-exciting alternator, each Onis Visa unit produces an output of kVA 1253.0 PRP power.
The other two units, currently under production, will be delivered in a few weeks, completing the first part of the contract.
VISA SpA?s area sales manager, who directly followed the project together with the Kuwait dealer, said, ?The specifications for this particular client include low noise acoustic enclosures and features must include durable and robust construction to allow the machines to work in difficult conditions.?
Extremely durable and robust, the Onis Visa P1260 gensets feature high corrosion and impact resistance and have been designed to withstand rough handling. A temperature of 45?C in the shade adds to the challenges.
According to the company, due to the structural features that make the sound-proof containers particularly sturdy, the gensets represent the right choice for demanding applications that require frequent handling of the units or are located in particularly hostile climatic conditions.
There are two main reasons why Onis Visa gensets have been selected for the project: the long experience on many other projects and, last but not least, the fact that Visa SpA can guarantee a local service through the company?s regional dealer.
?Working with a well-structured organisation can make a lot of difference in terms regional know-how and after sales services,? added the area sales manager.