Global technology company ABB has said that its technology is being used to build the world?s largest desalination plant in Taweelah, Abu Dhabi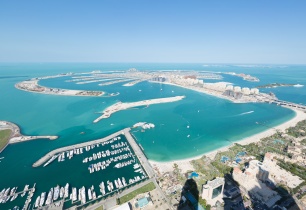 ABB has also delivered a wide range of low and medium voltage motors and variable speed drives to ensure reliable and energy-efficient pumping in the plant. (Image source: Adobe Stock)
The US$500mn development will have the capacity to process more than 900,000 cubic metres of seawater per day, enough to meet the demands of more than 350,000 households.
Approximately 45 km north of Abu Dhabi city, the Taweelah project will be the first reverse osmosis independent water project in Abu Dhabi which will desalinate seawater for supply to local communities and industry in the area. It will also set new benchmarks for its size, efficiency and cost by utilising the lowest amount of energy per cubic metre of water produced.
As the world?s largest desalination plant, it is estimated to supply 909,200 cubic metres per day and is scheduled to become fully operational in Q4 2022. The plant will play a critical role in meeting the region?s peak water demand, which is projected to rise by 11% between 2017-2024.
ABB is working with SEPCOIII, the EPC contractor of the plant, to ensure power supply continuity, boost system operational efficiency and reduce maintenance costs. Challenged to provide a safe, reliable and stable power supply to the operation of the seawater desalination equipment, ABB is delivering 30 panels of UniGear ZS3.2 medium-voltage switchgear and 250 panels of MNS low-voltage switchgear with digital capabilities.
?When commissioned it is estimated this plant will meet water demand from more than 350,000 households. Water is a critical element to a country?s prosperity and growth, and on World Water Day we are happy to contribute to building a safe, smart and sustainable future,? said Loay Dajani, managing director, ABB Electrification, Middle East and Africa.
In an electric power system, switchgear is used to control, protect and isolate electrical equipment, to ensure an uninterrupted power supply. To optimise operations, the MNS switchgear delivered has incorporated intelligent devices with a data interface to enable remote operation monitoring and condition-based maintenance of the switchgear.
ABB has also delivered a wide range of low and medium voltage motors and variable speed drives to ensure reliable and energy-efficient pumping in the plant. The ACS580MV medium voltage drives match the speed and torque of the motors to the pumping demand for maximum energy savings.
James Zhao, lead business manager of Electrification in China, said, ?Power supply reliability and energy management are critical to the long-term, reliable and efficient operation of many infrastructures around the world, including seawater desalination projects.
?We are honoured to work with SEPCOIII, a leading EPC contractor in the world, to provide leading power distribution technology for this iconic project in Abu Dhabi. ABB is committed to becoming a reliable partner for Chinese enterprises and achieving win-win cooperation in the global market by leveraging respective advantages.?