Green energy supplier Mainspring Energy has launched the Mainspring Linear Generator, the first product in a new category of power generation technology for commercial and industrial buildings, utilities, and microgrids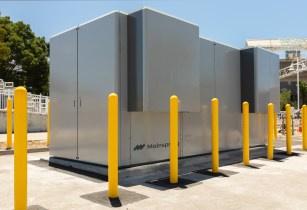 Many commercial and industrial customers, as well as utilities, want clean, reliable power generation, with the capability to switch to 100% renewable fuels. (Image source: Mainspring Energy)
The growing mandate for a reliable, affordable, and low-carbon electric grid is driving demand for new power generation technologies that can enable greatly increased use of renewable energy while providing improved resilience against natural disasters, increased flexibility, and lower cost than the electric grid.
Mainspring?s breakthrough technology, based on research originally conducted by the company?s co-founders in a thermodynamics laboratory at Stanford University, is designed to meet these demands by delivering dispatchable, fuel-flexible power that substantially reduces cost and carbon today, while accelerating the transition to a net-zero carbon grid.
The company also announced it has entered a US$150mn agreement with NextEra Energy Resources to purchase Mainspring units and finance customer projects starting in the first half of 2021.
A major national supermarket chain, one of the Fortune 500 customers in Mainspring?s pilot programme, has signed an agreement to expand deployment of Mainspring Linear Generators to power up to 30 grocery stores. Mainspring began shipping pilot units to multiple Fortune 500 customers in June 2020 and expects to begin commercial product shipments in mid-2021. Mainspring has shipped products to big-box retail, grocery, and utility customers and is in talks with other Fortune 500 companies in shipping, logistics, telecommunications, and 100% biogas wastewater treatment facilities.
?Mainspring is excited to bring our new solution to market with world-class partners like NextEra Energy Resources and our initial Fortune 500 customers,? said Shannon Miller, founder and CEO of Mainspring. ?Their industry expertise, insights, and validation are valuable assets in meeting our goals: to help our customers reduce electricity costs and carbon output, improve resilience against natural disasters, and accelerate the transition to the net-zero carbon grid of the future.?
?Many commercial and industrial customers, as well as utilities, want clean, reliable power generation, with the capability to switch to 100% renewable fuels like biogas and hydrogen as they become available,? said NextEra Energy Resources President and CEO John Ketchum. ?Mainspring can integrate clean onsite generation with both renewables and the grid and we're pleased to support bringing this innovative product to market.?