Construction equipment maker, Doosan, has launched a new portable power electric-driven air compressor, marking the start of a new generation of air compressors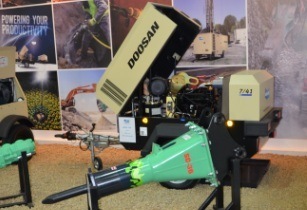 The latest additions to Doosan's range of air compressors require less power compared to the standard one-motor-fits-all design. (Image source: Doosan)
The new design replaces the diesel engine on the air compressor, with the installation of three onboard electric motors that driven by a variable frequency drive (VFD) system, according to the South-Korean based manufacturer.
Featuring one airend motor and two cooling fan motors, the new air compressors have been designed to use less power than required of a typical motor, Doosan said.
The air compressor has a variable frequency drive which identifies the requirements of the compressor by changing performance of the motors so as not to use unnecessary power, the company stated.
Depending on the load demand, the VFD automatically adjusts to maximise flow for each pressure setting, making it cost-effective and also energy-efficient by reducing power costs.
''The VP900e operates between 400 and 900 cfm without wasted energy, due to intelligent engineering design,'' said Rus Warner, manager - global air products at Doosan Portable Power.
''We've designed the model in such a way that it automatically delivers the exact flow necessary for an application - conserving power and allowing for easier operation - it's like having two machines in one,'' Warner added.