Eaton presented the latest in its power management solutions at the first of its Middle East Technology Days in Dubai this month after opening a new headquarters in the same city last year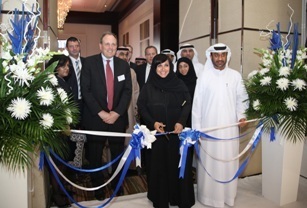 Her Excellency Salma Ali Saif Saeed Bin Hareb, Economic Zones World chief executive officer, opened Eaton?s Middle East Technology Days. (Image source: Eaton)
Attended by more than 600 customers and company partners, the two-day event showcased Eaton?s latest products and innovations, which covered seven industry segments: construction, aerospace, data centre and IT, utilities, solar, oil and gas as well as vehicles.
Eaton general manager of the Middle East, Frank Ackland, said, "My vision is to establish Eaton as one of the premier power management companies in the Middle East and this Technology Days will be a key step in the journey towards realising this goal and achieving our Middle East revenue target of US$800 mn by 2015."
Her Excellency Salma Ali Saif Saeed Bin Hareb, Economic Zones World chief executive officer, officially opened the Dubai Technology Days, which included 18 technical seminars and private sessions taken by Eaton?s leading experts as well as an exhibition of the company?s key power management solutions.
Joining Ackland were several more of Eaton?s senior officials, such as president for Europe, Middle East and Africa Kurt McMaken; global director of oil and gas Gardiner Henderson; and vice chairman and chief operating officer Thomas S Gross.
Gross said, "I am tremendously excited about the opportunities that lie ahead in this dynamic and fast-growing market."
Having worked in the Middle East for four decades, the power management company unveiled its new regional headquarters in Dubai?s Jebel Ali Free Zone in November last year.
"The recent opening our new regional headquarters and manufacturing hub will be a platform to help supercharge our growth moving forward," added Gross.