Saudi Power Transformers Company (SPTC) Limited, a power transformer manufacturing company in Saudi Arabia and the GCC, has introduced mobile transformers in Saudi Arabia as temporary solutions for the supply of electric power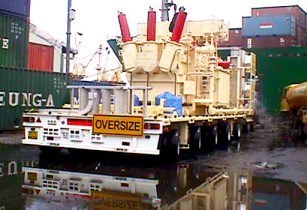 The mobile transformers can be used in emergency situations. (Image source: CG Power Systems)
Established in 2010 as a joint venture between Saudi Transformers Company Limited with 51 per cent and CG Power Systems-Belgium with 49 per cent, the company manufactures transformers from the range of 20MVA to 100MVA.
Hany Abusalem, V-P, sales and marketing, said, ?We have a transformers manufacturing facility at Dammam in Saudi Arabia. It is the largest test pay in the Middle East region. It tests transformers upto 100MVA, 145KV.?
He added that the company is opening sales offices in Riyadh and Jeddah as the kingdom is a huge market in terms of demand. ?Our target markets is GCC and Syria, Jordan Egypt, Yemen and Iraq,? Hany added.
Talking about new projects at MEE 2014, the V-P said that the MARAFIQ project is responsible for water in Jubail for supply of water to Sadara petrochemical complex. He added that SPTC has won service contract from Saudi Electric Company (SEC) transmission (National Grid) for rewinding 40MVA transformers in Mecca.
Talking about MEE 2014, Hany said that the event was impressive and the company interacted with a lot of customers and suppliers for raw materials. ?It is a platform to meet international companies,? he concluded.