Dubai Silicon Oasis Authority (DSOA) has signed a Memorandum of Understanding (MoU) with the Dubai Carbon Centre of Excellence (DCCE) to develop a sustainable economy in Dubai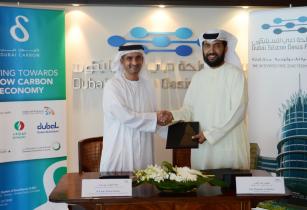 Waleed Salman, chairman of DCCE and Muammar Al Katheeri, executive vice-president of the engineering management department at DSOA signed the MoU. (Image source: DSOA)
According to the MoU, DSOA will be actively engaged in DCCE?s carbon ambassador programme and work with students on sustainable development and reducing carbon emissions. Initiated by Dubai Electricity and Water Authority (DEWA), the carbon ambassador programme was launched by DCCE in June 2014 in association with the United Nations Development Programme (UNDP).
DCCE and DSOA will also aim to create jobs in the environment sector and engage youth in driving the mandate of sustainability.
Waleed Salman, chairman of DCCE, said, ?Our mission is to secure our planet for future generations by helping to build a green economy that reflects the aspirations of our leaders. As a pioneer in enabling the IT industry to shape a green economy in the UAE, DSOA will augment our efforts in building a sustainable eco-system with its in-depth knowledge and best practices. Our long-term objective is to provide access to better information and enhanced training methods as we direct our energies towards helping the UAE establish its green credentials.?
DSOA and DCCE will also primarily engage their target audience through social media, public exhibitions and events to showcase the latest sustainable practices. DSOA will also contribute to hosting workshops, lectures and site visits to create social awareness and provide the youth with an opportunity to interact with business partners at the hi-tech free zone.