Vice-President and Prime Minister of the UAE and Ruler of Dubai HH Sheikh Mohammed bin Rashid Al Maktoum broke ground on the 700MW fourth phase of the Mohammed bin Rashid Al Maktoum Solar Park, the biggest concentrated solar power (CSP) project in the world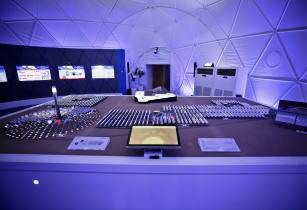 The Mohammed bin Rashid Al Maktoum Solar Park is the largest single-site solar park in the world, based on the IPP model. (Image source: DEWA)
The start of the new project advances the UAE?s global leadership in the use of clean and renewable energy.
HH Sheikh Mohammed said that developing the UAE?s infrastructure is a top priority for the leadership and vital to raising the country?s global competitiveness. The UAE is developing a new model for sustainability and innovation and is keen to find creative solutions based on international best practices and benchmarks.
?We will continue pursuing ambitious investments with an emphasis on projects that have a positive impact on people?s lives. Clean and renewable energy is key to sustainable development and the UAE has set an example for its rapid adoption,? HH Sheikh Mohammed added.
HH Sheikh Mohammed was accompanied at the ground-breaking ceremony by Deputy Ruler of Dubai HH Sheikh Maktoum bin Mohammed bin Rashid Al Maktoum and president of Dubai Civil Aviation Authority and chairman of Dubai Supreme Council of Energy HH Sheikh Ahmed bin Saeed Al Maktoum, apart from ministers, and director generals and senior officials of Dubai Government departments.
This CSP project, based on the independent power producer (IPP) model, will generate 700MW of clean energy at a single site. The project, which features the world?s tallest solar tower measuring 260 metres and the world?s largest thermal energy storage capacity, will provide clean energy to over 270,000 residences in Dubai, reducing 1.4mn tonnes of carbon emissions a year. The CSP project will use two technologies for the production of clean energy: the 600MW parabolic basin complex and the 100MW solar tower over a total area of 43 sq km. This project, which features an investment of US$3.87bn, has achieved the world?s lowest levelised cost of electricity (LCOE) of US$7.3 cents per kilowatt hour (kW/h). This is a new global achievement for the UAE.
Saeed Mohammed Al Tayer, MD and CEO of Dubai Electricity and Water Authority (DEWA) said, ?I would like to extend my thanks and gratitude to HH Sheikh Mohammed bin Rashid Al Maktoum for honouring us with his presence today on the occasion of this important milestone in our progress towards sustainability. This pioneering Emirati landmark has become a global model based on a vision. It anticipates the future of a nation that sees sustainability as a life-long approach, and a basis for its progress and pioneering achievements for generations to come. The UAE President HH Sheikh Khalifa bin Zayed Al Nahyan has affirmed his commitment to continuing efforts to conserve the environment and enhance the sustainability of our natural resources. This continues the legacy of our nation?s founding father, the late Sheikh Zayed bin Sultan Al Nahyan, who once observed, ?Our environment and the resources within it are not ours. They are simply on loan to us and in our charge. It is the responsibility of us all to care for them and pass them on unharmed to future generations.
?Today?s achievement supports HH Sheikh Mohammed?s directives to expedite the pace of clean and renewable energy projects, in order to secure a happy future and enhance the quality of life for our future generations in an economy that doesn?t rely on oil, realising the dream of HH Sheikh Mohamed bin Zayed Al Nahyan, Crown Prince of Abu Dhabi and Deputy Supreme Commander of the UAE Armed Forces, which has already become a reality. This will also achieve the Dubai Clean Energy Strategy 2050, which HH launched, to provide 75 per cent of Dubai's total power output from clean sources by 2050, and the UAE Centennial 2071, to raise the UAE?s status as the best country in the world,? Al Tayer added.
?We are guided by HH Sheikh Mohammed?s resolve and vision to achieve the Dubai Clean Energy Strategy 2050 to transform Dubai into a global hub for clean energy and green economy; establishing the emirate as the city with the lowest carbon footprint in the world. Achieving these ambitious targets will require more than 42,000MW of clean and renewable energy by 2050. This project is one of the most important projects that will contribute to these needs. It has a planned capacity of 5,000MW by 2030, with a total of US$13.61bn in investments, to accelerate the transformation towards solar power,? Al Tayer further said.
?The Mohammed bin Rashid Al Maktoum Solar Park will provide Expo 2020 Dubai with a dedicated capacity of 464MW of clean energy. This will be the first expo in the world to be completely powered by clean energy,? added Al Tayer.
?The Mohammed bin Rashid Al Maktoum Solar Park is a global landmark and an important milestone on the road to sustainability that will also promote the happiness of the UAE?s citizens, residents, visitors and people from around the world,? concluded Al Tayer.
The Mohammed bin Rashid Al Maktoum Solar Park is the largest single-site solar park in the world, based on the IPP model. It will generate 1,000MW by 2020 and 5,000MW by 2030. The 13MW photovoltaic first phase became operational in 2013. The 200MW photovoltaic second phase of the solar park was launched in March 2017. The 800MW photovoltaic third phase will be operational by 2020, and the first stage of the 700MW CSP fourth phase will be commissioned in Q4 2020.