MAKE Consulting recently revealed that the wind power capacity in the Middle East and Africa (MEA) region amounted to 676MW in 2016, as compared to 682MW in 2015, but has also forecasted the region?s capacity to install nearly 40 GW of new wind power capacity from 2017 to 2026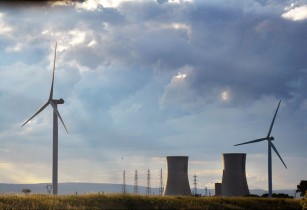 The region?s new capacity additions were led by South Africa and Morocco, which accounted for 80 per cent of the MEA?s total capacity additions last year. (Image source: Jeanne Menjoulet/Flickr)
The findings were described in MAKE?s recent research report on the Middle East and Africa Wind Power Outlook, published on 19 June 2017.
The report analyses the wind power market in the MEA, providing updates on policy recommendations, economic trends and the potential advantages and disadvantages for new wind installations in the region.
MAKE?s report observes that the total wind power capacity in the region has reached up to 4.2 GW, from one gigawatt at the end of 2010.
According to the report, the new capacities in South Africa and Morocco accounted for more than 80 per cent of the MEA?s total capacity additions in 2016.
In terms of wind power development, South Africa and Morocco led African region precedes the Middle East, representing 91.3 per cent of the total cumulative capacity in 2016.
MAKE shows that the renewable energy independent power producer procurement program (REIPPPP) in South Africa supports the new wind power capacity additions in the country.
However, the ongoing delay in the government?s signing of power purchase agreements (PPA) has impacted the REIPPPP Round 4.
The report further describes that Morocco?s Law 13-09, which allows private power producers to supply electricity to the grid or to a third party via a PPA, remains a strong driver of new wind power growth in the country.
The increasing amount of wind resources and advancement across the market value chain are expected to support the new wind-power capacity growth in the entire region. According to MAKE?s forecast, the growth will result in a gradual reduction of wind power?s levelled cost of electricity (LCOE), down 15 per cent from 2017 to 2022.
The report emphasises that the auctions in South Africa, Egypt, Morocco and the UAE have resulted in some of the cheapest bidding prices globally for both wind and solar projects.