ACWA Power International, the Saudi-based water and power developer, has signed an agreement to acquire a 42 per cent stake in a solar photovoltaic (PV) plant located in Karadzhalovo, Bulgaria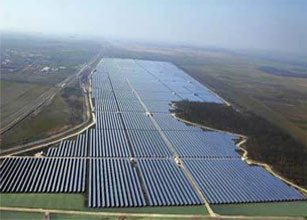 The Karadzhalovo solar plant in Bulgaria. (Image source: ACWA Power International)
The Saudi firm has partnered with an affiliate of the First Reserve Energy Infrastructure Fund and the Clean Energy Transition Fund, a fund managed by Crescent Capital, to acquire the solar plant.
ACWA Power president and chief executive officer, Paddy Padmanathan, stated, "We are proud to enter not only our sixth international market, but also our first investment in renewable energy.
"This Bulgaria PV IPP is yet another milestone in the company's history and helps to diversify the company's technology portfolio and fuel mix."
US-based SunEdison built the plant, which utilises polycrystalline silicon solar photovoltaic technology and is expected to produce 81,000MWh per annum. The plant has been operating since March 2012 and is already dispatching electricity to the Bulgarian power grid.
As part of the deal, the plant will be operated by a new company formed in Bulgaria by NOMAC, a subsidiary of ACWA Power, and SunEdison, in which both companies will have an equal share of ownership.
ACWA Power currently owns majority stakes in fully operational assets in Oman and Jordan, and has projects that are under advanced development in Morocco and Turkey.
READ MORE...
Renewable energy growth to surge more than 40 per cent by 2017
First Solar looking for a greater presence in the Middle East
ACWA-led consortium to develop 50MW solar thermal project in South Africa