Fugro, which analyses topographical data for energy companies, said it would train students of King Abdullah University of Science and Technology (KAUST) in ROV operations and hydrographic survey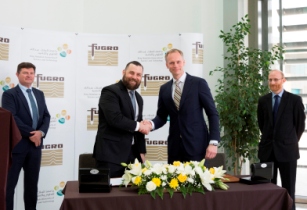 The KAUST-Fugro Center of Excellence for Marine Technology will provide training to enable Saudi students to become ROV pilots and engineers, working in both industry and marine research. (Image source: KAUST)
Fugro will establish an ROV Training Academy at the KAUST Coastal and Marine Resources Core Lab.
At the academy, the company will train students to become ROV pilots and engineers.
The Netherlands-based company said KAUST?s proximity to the Red Sea would help in tackling the challenges associated with mapping the Sea, which has remained unexplored due to salinity, temperatures and depths.
?This close working relationship with Fugro will greatly increase KAUST's capabilities in marine research, enabling access to the extreme environments of the Red Sea and advancing the development of subsea research technologies,? said Jean Fr?chet, KAUST?s senior vice-president for research, innovation and economic development.
?The Red Sea is of great importance to Saudi Arabia's economy, and we need to further our understanding of its resource-rich environment for the benefit of the Kingdom,? Fr?chet added.
?Fugro is pleased to form this innovative partnership with KAUST, building on our past 40 years of operations in Saudi Arabia. Our hydrographic survey teams have conducted extensive seabed mapping programmes in the Red Sea over the last decade and we look forward to training and developing more Saudi students, enabling them to enter this exciting field of discovery,? said Mark Heine, director of Fugro's marine division.