Intertek, one of the leading Total Quality Assurance provider to industries worldwide, has today announced the opening of its new Sharjah laboratory complex for assurance, testing, inspection and certification to support the region?s rapidly growing demand for quality assurance across multiple industries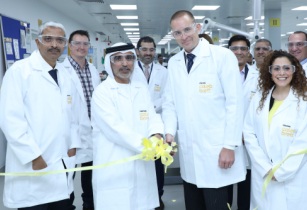 Intertek's new facility in Sharjah features six new specialised laboratories. (Image source: Intertek)
The new Sharjah laboratory complex was officially inaugurated by Ali Salem Ali Salem Al Mazroua, chairman of Al Mazroua Group. The opening was attended by industry leaders and experts and will be followed by a three-day event which will include technical presentations, guided tours and knowledge sharing by Intertek?s quality assurance experts.
The new purpose-built 38,000 sq ft facility in Sharjah features six new specialised laboratories, including a Fuel Lab, an Oil Condition Monitoring (OCM) Lab, a Scanning Electron Microscopy (SEC) Lab, an Upstream Production Chemistry Lab, a Microbiology Lab, and a Food and Water Lab. Its state-of-the-art equipment, sophisticated testing, and technical expertise provide a full suite of quality assurance offerings across multiple disciplines under one roof. This includes quality assurance needs for the oil, gas, petrochemicals, chemicals, power, construction, airlines, manufacturing, environmental, hospitality, cosmetics, and food and water industries.
The facility is now one of the largest independent laboratories in the region, servicing clients in the UAE and the Gulf. This upgrade allows Intertek to cater to more complex requests from local and regional customers and comes at a crucial time when governments seek to diversify their economies and become more competitive on the world stage through quality assurance.
With the opening of this new complex, Intertek will be the only third-party quality assurance provider in the UAE that offers a lubricity test for jet fuel, as well as a number of exclusive tests for transformer oils which can help detect corrosion and oil-ageing and reduce costly down-time. Also, Intertek can now test and diagnose dissolved decay products present in insulating fluids for the power industry through special equipment. The new complex can also resolve contamination and investigate component failure via Scanning Electron Microscopy (SEM) analysis for airlines, oil and gas, power, and other industries that would require detailed surface imagery and composition for quality assessment.
The centre?s Microbiology Lab provides world-class testing to many industries, including oil exploration, fuels, cosmetics and beauty products, food, and water. From the assessment of microbial contamination to quality control, these microbiology services can increase confidence in the quality of a product, mitigate the negative effects of microbes in a production environment and safeguard processes and personnel. Moreover, the local team of ISO17020-trained Legionella Risk Assessors provide Legionella and potable water consultancy, management and training services.
?The Gulf countries have consistently used innovative technology and first-rate expertise to assure quality in products, materials and processes. In the region, Intertek has been at the forefront of quality assurance and testing since 1977, when it opened its first commercial lab in Sharjah. Since then, we have been constantly seeking opportunities to support our clients? growth and their compliance with regulatory frameworks, by offering them reliable and quick turnaround quality solutions, wherever they are located,? Matthew Skinner, Intertek?s regional managing director for the Gulf and Pakistan said.