Nama Group has announced the commencement of the live operation of their centrally implemented automatic meter reading (AMR) project, designed for high-value customers in the electricity sector in Oman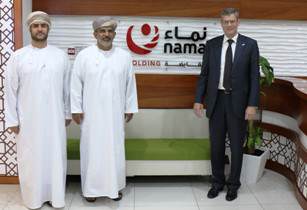 Nama Group has worked on many significant projects in Oman. (Image source: Nama Group)
The project was carried out by a team of Omani experts from the electricity distribution companies in Nama Group in partnership with CESI Middle East FZE, a subsidiary of CESI, and WIPRO Limited as the system integrator. The AMR system is a central standard smart metering system that will enable electricity companies to obtain accurate, hourly meter readings from customers and collect their consumption in an automated manner.
Nama Group CEO Eng Omar Al Wahaibi stated, ?The AMR is another milestone in our continuous efforts to drive the electricity sector to enhance efficiencies, reduce electricity losses and provide better services to our customers. Moreover, this project sets a strong basis for providing more advanced services to our customers and helps us to be more effective in serving their needs in an efficient manner, in our quest to realise Nama?s vision of becoming a leading reference for utility service excellence by 2022.?
Dr Mansoor Al Hinai, Nama?s V-P distribution, added, ?This project will help the sector implement its future vision of building Omanis capabilities and put them at the forefront of leading technologies in the electricity industry. The project will also support the implementation of privatisation and electricity supply competition in line with the Oman government?s vision.?
CESI has been supporting the project since its inception in 2015, and the company?s role has been to manage the project activities to ensure the efficient coordination and delivery of several contractors, service providers and manufacturers involved in the project?s extensive implementation.
Dr Floris Schulze, managing director, CESI Middle East FZE, also stated that the AMR project was very significant for the development of the electricity sector in Oman, as accurate and precise meter readings prepare the sector for future advancements such as distributed rooftop solar generation, whereby solar energy is generated and consumed locally.