Early detection of insulation defects helps prevent machine failure and safeguards investments, and the latest Omicron on-line partial discharge monitoring detects insulation defects early so that corrective action can be taken to prevent failure and to extend the service life of motors and generators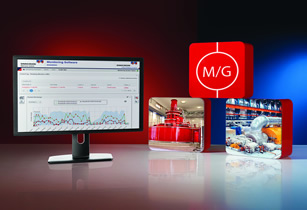 The Omicron Mongemo system. (Image source: Omicron)
Omicron provides asset managers with continuous insulation condition status during specified time intervals while the machines are running under real service conditions. The latest Omicron's OMS 605 is designed for temporary on-line partial discharge monitoring of a variety of high-voltage assets, including motors and generators. The system is contained within a rugged, waterproof trolley-style case for easy transport. The simple-to-use, pre-wired plug-and-play modules enable fast system setup. A notebook PC can be attached to the OMS 605 for display and analysis of monitoring data.
Omicrons?s Mongemo permanent on-line PD monitoring system is capable of monitoring PD activity on single or on several rotating machines simultaneously. With the convenient web interface, users can remotely configure the monitoring system, view real-time data and historical trends, and analyze the collected raw data. Advanced diagnostic features such as automatic cluster separation enable convenient visual evaluation of PD data. The system also supports multiple industrial communications standards for display of monitoring data from third-party devices and data export to SCADA systems.
Both types of on-line PD monitoring systems record real-time data and visualize trends in PD activity. An alarm sounds when the predetermined limit has been reached. These events are monitored and logged for later analysis.
On-line PD monitoring is a well-established technique used to continuously assess the condition of a stator winding insulation system. PD monitoring data helps organizations to optimize their asset management, maintenance efforts and investment planning. Machine failures can be avoided through the timely implementation of condition-based maintenance and repair measures to ensure a longer service life.