Oman Cables Industry (OCI), which is part of Prysmian Group, displayed its latest technology at the Innovation Day in Muscat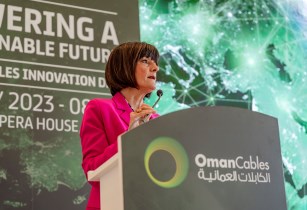 OCI's CEO Cinzia Farisè highlighting the company's sustainable technology. (Image source: OCI)
Dedicated to all its partners across the GCC region, OCI's Innovation Day was held at the Royal Opera House in Muscat, and featured presentations of the company's sustainable innovations. Prysmian Group served as the event's technological partner, and major experts from around the globe attended, including Srini Siripurapu, chief innovation and R&D officer at Prysmian Group.
The company is enhancing innovations in the sustainability sphere, said Oman Cables chief executive officer Cinzia Farisè.
"Our Innovation Day was dedicated to our Customers, the reason for our existence, for their continued trust and contribution, because innovation is by definition the result of partnership and collaboration. We were talking about our journey towards sustainability and our continuous transfer of knowledge and technology to the Sultanate of Oman and the entire GCC region," Farisè said.
"Our event provided an outstanding opportunity to gain valuable insights into our latest technologies, aimed at implementing innovative solutions to support the energy transition, renewable energy production and sustainable technologies. Even more at this stage, we want them to feel that they can count on us to promote sustainable growth and increase the vitality of the entire ecosystem."