AkzoNobel use the most advanced and innovative methods of education and training for the surface treatment and coatings industry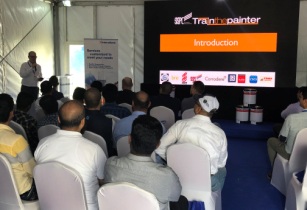 AkzoNobel has recognised that Train the Painter (TtP) fully supports their industry ethos. (Image source: AkzoNobel)
AkzoNobel training programmes have been developed by industry subject matter experts to a comprehensive package of modules that are available to ensure the user gains an insight into basic corrosion, methods of surface treatment, application and inspection of protective coatings.
Train the Painter Theoretical and Workshop
TtP provides a comprehensive package of training modules for applicators that ensure professionalism and give an insight into methods of surface treatment and the application of protective coatings with a strong focus on health and safety. The training programme is accredited internationally by UK-based Lloyd?s Register and certified by Society for Protective Coatings (SSPC), it has been developed to allow AkzoNobel?s approved trainers to deliver a dynamic training experience. TtP has been independently assessed against and meets the requirements of NACE No 13, SSPC-ACS-1 & Norsok Standard Section 10.2.2
AkzoNobel has recognised that Train the Painter (TtP) fully supports their industry ethos and understand how synergy between AkzoNobel and the TtP programme will promote a desired level of professionalism and quality improvement within the industry. The innovative and unique interactive training programme uses animations and videos to compliment the text and handout material. Training is delivered by experienced and qualified AkzoNobel trainers.
SSPC Train the Coatings Supervisor (TtS) Theoretical and Workshop
The SSPC Coating Supervisor?s Course is already prevalent in the oil and gas industry across Europe; it has been developed to meet the requirements of the surface preparation and coating application industry. The industry has undergone considerable changes over the years, specifically related to increased levels of health & safety, new environmental legislation and minimum requirements for quality control.
The role and responsibilities of the Coating Supervisor have also increased which has necessitated the need for a structured and recognised training programme. The course has been developed to assist coating supervisors to gain a thorough understanding of their roles and responsibilities, improve awareness on health & safety and environmental legislation. Delegates will also gain an insight into coating technology, coating specifications, inspection techniques and equipment and paint related problems.
Train the Inspector (TtI) Online Training with Classroom Based Assessments
As well as Train the Painter/Supervisor, AkzoNobel is now in a position in conjunction with our affiliates to be able to offer a range of Train the Inspector online qualification training including
- ICorr Level 1 Coating Inspector
- ICorr Level 2 Coating Inspector
- ICorr Level 3 Coating Inspector
- SSPC Fireproofing Inspector
- SSPC Insulation Inspector
- SSPC Pipeline Coating Inspector
- Hot Dip Galvanizing Inspector
The TtI online qualifications achievable are internationally accredited and recognized; TtI online offers a flexible study programme allowing students to study when and where it is convenient. As students? progress through the training, they can apply their newly gained knowledge, skills and expertise immediately. All students must attend a one-day assessment to achieve their accredited Certificate.
For further information on any training requirements please contact This email address is being protected from spambots. You need JavaScript enabled to view it.