ASGC, one of the leading construction groups in the UAE, has received two coveted distinctions for business excellence during the latest round of Mohammed Bin Rashid Al Maktoum Business Award as well as Mohammed Bin Rashid Al Maktoum Innovation Award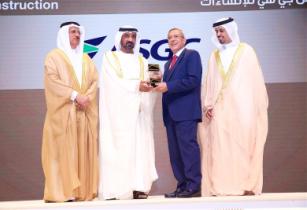 ASGC is the only construction firm in the UAE to receive both awards this year. (Image source: ASGC)
In both programmes, ASGC was recognised for its role in promoting global best practices on both a corporate management level and in terms of construction innovation.
The company has maintained sustained business growth and has been active in knowledge-sharing initiatives across the GCC, aiming to elevate the region?s overall business reputation worldwide.
Mohammed Bin Rashid Al Maktoum Business Award aims to embrace all GCC businesses in the journey of excellence, recognising and celebrating the success of these organisations. In addition, Mohammed Bin Rashid Al Maktoum Innovation Award recognises companies who are leading in the realm of innovation.
?In building smarter and safer cities of tomorrow, the UAE government has been tremendously supportive of the private sector as well as cutting-edge business tools and processes,? said Bishoy Azmy, CEO of ASGC.
For about 30 years, ASGC has been delivering turnkey special projects across the UAE, employing more than 16,000 construction specialists and workers across the nation. The company is currently managing projects such as the upcoming HH Sheikh Mohamed Bin Rashid Public Library, Dubai Arena and Expo 2020 Sustainability Pavilion.