Banque du Caire (BDC) has launched its new representative office in the UAE, with an aim to strengthen its overseas presence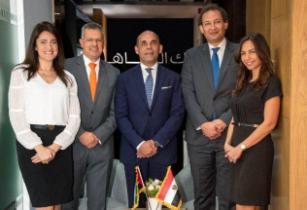 The UAE office will support the 15 per cent market share growth in the region. (Image source: BDC)
Tarek Fayed, chairman and CEO at BDC, said that the UAE office is set to stimulate trade between Egypt and the Arabian Gulf countries and attract investments to Egypt, financing foreign trade operations as well as capturing remittances from Egyptian expats.
Fayed also asserted that the UAE office will support the 15 per cent market share growth in the region. Currently, BDC captures 10 per cent of the total remittances of Egyptian expats routed from Arabian Gulf countries.
BDC has appointed Ashraf Khalil to head its representative office. According to Khalil, with the launch of the new office, BDC is seeking to work closely with targeted client segments that will enable the bank to increase its market share from such clients who have a trade, commercial or investment exposure in Egypt through BDC's head office in Egypt.
He identified that the main activity of the representative office is to provide the necessary on-ground support to BDC's customers in the UAE and Arabian Gulf across all core sectors such as exchange houses (for Egypt remittances), financial and non-Bank financial institutions and large corporates dealing with BDC?s head office in Egypt.
In addition, the office will play an important role with the Egyptian embassy and consulate and the Egyptian expat community to support the commercial and investment activity in Egypt and market all BDC's products and distribution channels in Egypt in essence of meeting their banking needs.
Fayed acknowledged the role of Central Bank of the UAE to speed up the process of obtaining the operating license for the representative office in a short timeframe.
BDC seeks to enhance trade flow between Egypt and African countries through Banque du Caire- Kampala, which is being restructured to serve as a platform to enter Africa.
Amr El Shafei, executive vice-chairman of BDC, stressed that BDC's board of directors are keen on developing the technological means necessary, in addition to providing the new office with experienced bankers to serve clients. The trade corridor between the Middle East and Africa is crucial to growing their economies and Egypt is set to play a leading role in developing it.