Masdar, Abu Dhabi renewable energy company, has signed a green revolving credit facility (RCF) with four local and international banks to provide funding for new and ongoing investments in its global clean technology and sustainable real estate projects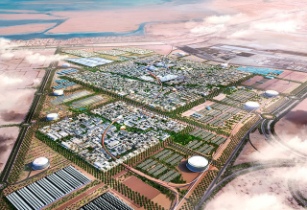 Masdar has signed a green RCF with four local and international banks to drive sustainability goals. (Image source: Forgemind ArchiMedia/Flickr)
The facility, which is the first green RCF in the Middle East, has been arranged with the UAE?s First Abu Dhabi Bank, Societe Generale Corporate & Investment Banking, Japanese multinational banking and financial services company Sumitomo Mitsui Banking Corporation, and pan-European global banking and financial services group UniCredit.
The three-year facility includes a number of ?green features? which are consistent with the Loan Market Association?s Green Loan Principles (GLP). The GLPs were launched in the UK earlier this year in a move to standardise environmentally friendly lending and establish a framework for green lending across global markets.
Niall Hannigan, chief financial officer, Masdar, commenting on the announcement said, ?Our new green facility provides liquidity for general corporate purposes and shows that Masdar is establishing greater independence and greater financial discipline in line with its growth strategy. This is the first time we have secured borrowing at the corporate level, separately from Mubadala, and allows us to be more agile and responsive.?
Andy Cairns, senior managing director and head of global corporate finance, First Abu Dhabi Bank (FAB), added, ?FAB is delighted to arrange this innovative loan facility which evidences Masdar?s leading position in green and sustainable financing?.
Zulfiqar Khan, senior banker and head of corporate coverage for the Middle East, Dubai and UAE at Societe Generale Corporate & Investment Banking, said, ?We are thrilled to accompany Masdar on this historic transaction. It is a continuation of our strong support for Masdar and of Societe Generale Group?s ongoing efforts to support clients committed to environmental and social values as well as a long-term and ambitious CSR strategy.?
?We are very proud to make our expertise in structured finance and green loans available to Masdar with this first green revolving facility,? said Pietro Pasqualucci, head of Corporate & Investment Banking MEA Region at UniCredit.
Masdar?s key sustainability goals include the displacement of carbon dioxide emissions (CO2), electricity generation from renewable energy sources (including solar, wind and other recognised clean energy technologies), and the level of carbon dioxide emitted during the manufacture, transport and construction of building materials.