Saudi Arabia has invested US$133.3bn in industrial, service and logistics projects and contracts in its efforts to cut dependence on oil and in diversifying the national economy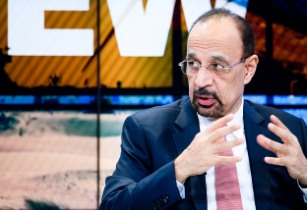 Khalid Al-Falih, Saudi Arabia?s energy minister. (Image source: World Economic Forum/Flickr)
The kingdom is also witnessing a demand in industrial investment after intensified efforts by the Saudi Industrial Property Authority (MODON) and other government agencies.
Saudi Arabia?s energy minister Khalid Al-Falih, speaking before the launch of the new identity and strategy of MODON in Riyadh, said, ?MODON?s success in marketing, highlighting advantages and incentives has attracted leading international companies in the industrial field.?
Al-Falih stated that the new strategy and identity of MODON is in line with the directives of King Salman, and Crown Prince Mohammed bin Salman. Its strategy and identity represents an important step and initiative toward the enhancement of its responsibility as one of the national industry?s pillars of empowerment and as a supporter of the state?s continuous plans to improve the industrial sector and to diversify national income resources, he added.
?It enables the kingdom to provide employment opportunities for young Saudis,? the minister noted.
MODON reportedly established 35 industrial cities with total industrial land exceeding 196mn sq m. The existing industrial cities include 3,380 productive factories and 6,271 industrial, service and logistics contracts with a total workforce that exceeds 500,000 employees.
Al-Salim, MODON?s general director, said, ?The new identity of MODON represents all the values that it aspires to achieve and its constant efforts to provide the best and latest services. Saudi Arabia is witnessing rapid developmental changes in various sectors, especially in economic aspects, based on its orientation to implement the objectives of the National Transformation Program 2020 and realising Vision 2030."