PROVEN Robotics, a leading provider of robotic solutions worldwide, has announced the successful integration of natural language artificial intelligence (AI) technology, ChatGPT, into its cutting edge humanoid robot, Pepper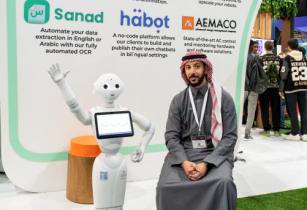 Mohammed Aldousari, regional robotics lead at PROVEN Robotics with Pepper humanoid robot. (Image source: PROVEN Robotics)
PROVEN Robotics also announced a partnership with one of the largest chemical manufacturing companies in the world - the deal saw the Saudi-based chemicals specialist leverage PROVEN Robotics' advanced robotics solutions at two of its events in the Kingdom.
Since its arrival in the market, ChatGPT has stirred far-reaching debates and has already made a significant impact due to its potential to profoundly impact a number of sectors, and revolutionise how people view and interact with AI. The integration of ChatGPT with Pepper demonstrated the innovative spirit of the PROVEN Robotics development team, and simultaneously presented an incredible opportunity to demonstrate the ground-breaking capabilities of both ChatGPT and Pepper.
"The combination of an advanced AI language system with our highly effective Pepper robotics platform provides a unique proposition for a wide range of applications, from customer service and entertainment to education and research. The ability to seamlessly integrate advanced language capabilities with the physical agility of Pepper has exciting potential, and reinforces PROVEN Robotics' standing as a leader in the industry," explained Mohammed Aldousari, regional robotics lead at PROVEN Robotics.
By leveraging the advanced language capabilities of ChatGPT, the PROVEN Robotics development team was able to overcome some of the robot's limitations and took its conversational abilities to new heights. The integration of the two technologies signifies a tangible step forward in the evolution of humanoid robotics, while showcasing the innovative spirit of the team at PROVEN Robotics.
The integration of ChatGPT in Pepper offers several significant benefits including: improving Pepper's natural language understanding, enabling the robot to understand a wide range of human inputs and to respond naturally; encouraging flexible and personalised communication, so the robot can engage in open-ended conversations with users in an array of environments; boosting Pepper's entertainment capabilities by enabling it to create interactive games, stories and other forms of entertainment; growing the educational applications that Pepper offers thus making it a more effective tool for learning, while also enhancing the assistive capabilities Pepper features. The latter enables Pepper to better assist people with disabilities by providing more human-like responses, and enabling it to understand more specific requirements.
"Our partnership with one of the largest chemical manufacturing companies in the world, which saw the rollout of our advanced robotics solutions at their key events in Riyadh, Jubail and Yanbu, proved without a shadow of a doubt that our robots could contribute to significant events. We thank our client for their trust and cooperation and look forward to building a productive partnership going forward. We are yet to leverage the full potential of robots and what they can bring to communities and businesses, however this was a fantastic proving ground and a stepping stone to a brighter future," concluded Aldousari.